Fern Juanette Butler Eden
Springdale, AR, 1933 - 2022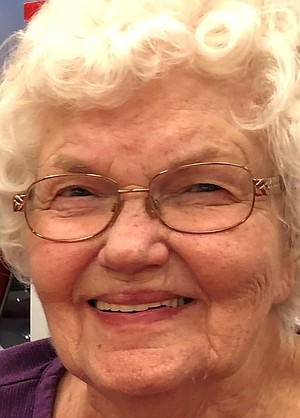 Fern Juanette Butler Eden, 89, of Springdale, died Tuesday, May 17, 2022, at Circle of Life Hospice in Bentonville. She was born April 16, 1933, in Plumlee, Arkansas, to Oscar T. Butler and Vivian Pauline (Greer) Butler. Juanette was a homemaker and well known for her wonderful cooking. Anyone visiting would always be offered something to eat, and there were always multiple options. While her boys were younger, she became very involved in the PTA at Jones Elementary School and served as a Home Room Mother several times. She was also an Avon Representative, an Amway Distributor and worked at Highlights Photography Studio. She was a founding member of Revival Tabernacle Church and served as Sunday School Secretary for 50 years. She was one of the most caring women, making several phone calls each day checking on people she knew were sick or experiencing problems. Hers was a life of service to others. She was happiest, though, when she had her entire family around her. She is survived by four sons, Jim (Carol), Bob (Randy), Greg (Nadine) and Ken (Dawn); one sister, Sharon Lawson (Marty), one brother, Rick Butler (Cheryl), sister-in-law, Mary Ella Eden, brother-in-law, Jim Metz; 16 grandchildren, Shawna, Kari, Shelah, Jared, Shane, Christopher, Dave, Justin, Brandon, Leslie, Aaron, Andrew, Quintin, Travis, Beth, Casey; 26 great-grandchildren and a host of nieces, nephews, cousins and friends. In addition to her parents, she was preceded in death by her husband, Billy D. Eden, and four sisters, Jo Dean Butler, Glenda Burgoyne, Yvonne Butler and Shirley Metz.
Funeral service will be 10 a.m., Tuesday, May 24, at Revival Tabernacle Church, 2608 E. Emma Ave. in Springdale with burial at Hickory Creek Cemetery. The funeral will be streamed live on the church's Facebook page. Visitation will be 5 to 7 p.m., Monday,also at the church. Arrangements are entrusted to Heritage Funeral Home, heritageofnwa.com.
Memorial contributions may be made to Circle of Life Hospice, Alzheimer's Association Arkansas, or the Revival Tabernacle Church Building Fund.
Published May 21, 2022
OBITUARY SUBMITTED BY:
Heritage Funeral Home
1591 S. 48th Street, Springdale, AR
Phone: 479-751-2444
http://www.heritageofnwa.com