Harold "Gene" Bland
Rogers, AR, 1934 - 2022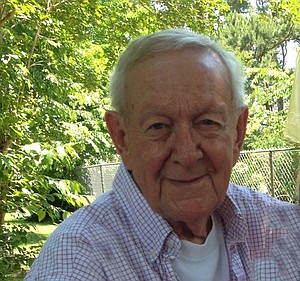 Harold 'Gene" Bland, 88, of Rogers, Ark., passed away April 9, 2022, in Las Vegas, Nev. He was born March 9, 1934, on his parent's farm near Clifty, Ark., the seventh child of Rev. W.E. Bland and Elba King Bland, beginning with a daughter, Ina, then six boys in a row Kenneth, Denver, Royce, Rex, Dale, and lastly, Gene.
The family soon moved to the Bland farm at Larue, where Gene attended first grade at the Historic Rocky Branch School taught by his father, and later to Rogers, where the boys could attend Rogers Schools. Gene also became a member of the Rogers First Baptist Church.
Gene, a RHS '52 graduate, and a Varsity Basketball letterman, baseball, plus was in the RHS Band (Baritone Horn). He worked five years, all thru school at Applegate's Drug, downtown Rogers. Gene enlisted in the Navy for four years, Feb 2, 1953 to Feb 2, 1957, including three years with the First Marines as a Corpsman, spending 15 months in post-truce Korea as a combat Medic for a Weapons Unit near the 38th Parallel Panmunjom. Final months were spent at the Camp Pendleton Marine Base.
Gene returned to Rogers, and later married Billie Jo Parker, a RHS '52 classmate, June 20, 1958. Daughters Kim was born in 1960 and Jennifer in 1966.
Gene worked at Wendt-Sonis while commuting to the U of A on the GI Bill. After graduating in 1961, he joined RJHS (Jr. High) '61-'62, '62-'63, 63'-'64, taught Science, Phys Ed, Jr. High Basketball, and was assistant Jr. High Football coach. In those days, only four coaches were total in the RHS system: Tillery, Bond, for Sr. High and Bland, Dunlap, for Jr. High. Gene was the head basketball coach RHS in'64-'65. Jr. Varsity Football hd., taught Science, Phys Ed., totaling five years at RHS.
In July 1966, Gene was hired as Asst. Personal Director, Daisy MFG. He was a Lion's Club member, plus a Little League baseball official with his brother, Dale, and friend, Ted Givers, for many years, and later as and AOA high school football official in NW Arkansas for 25+ years.
In January 1971, Gene was hired as the original Employee Relations Manager at Union Carbide (GLAD Mfg.) for the New Plant Start-up and continued until retirement.
Gene enjoyed golf, his horses, music, all sports, plus mowing his five acres of property. The couple enjoyed many trips in retirement until wife Billie's Alzheimer's disability, and Gene became a 10-year in-home caregiver. Gene spent his last years in Rogers, Ft. Myers, Fla., Eureka Springs, and Las Vegas, Nev.
A private burial was held on May 16, 2022, at Benton County Memorial Gardens, with full military honors and presentation of the flag to his daughter, Kim. Pastor Don Hall offered the opening prayer followed by reading of the obituary, scriptures from Psalm 23 and 94 from the Bible, and gave the closing benediction.
Honorary pallbearers were Ted Givers, Michell Hankins, Dennis Kincy, Jim Lingle, John Sampier, and David Swearingen.
A Celebration of Life will be held May 23, 2022, from 5 p.m. - 7 p.m. at the Benton County Funeral Home, 306 N. 4th, Rogers. Online condolences to: www.bentoncountyfuneralhome.com.
Published May 22, 2022
OBITUARY SUBMITTED BY:
Benton County Funeral Home
306 N. 4th Street, Rogers, AR
Phone: 479-636-6700
http://bentoncountyfuneralhome.com