Jill Marynel Pride Watson Wiesner
of North Little Rock, AR, 1944 - 2022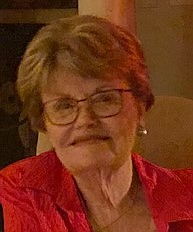 JILL MARYNEL PRIDE WATSON WIESNER met Jesus on May 18, 2022. Jill was born October 4, 1944 in Oakland, Calif. A short while later her family moved to the San Fernando Valley, a suburb of Los Angeles where she grew up and was cherished by her mom and dad, Ruth Lusby Pride and John Logan Pride. Jill went to school at James Monroe High School and then to the University of California Northridge.
Later she met and married Patrick Watson, her husband for 28 years, who passed away in 1993. Jill and Patrick moved to North Little Rock in 1985 to help her parents with the family business of land development. Jill met Ken Wiesner in 1997 and they married in 1998, Both husbands joined Jill in her business.
Jill always enjoyed living and working in Arkansas. Jill also enjoyed volunteering at many venues including Arkansas Rep, Arkansas Symphony, Arkansas Pops, Arkansas Hollywood and others. Jill traveled extensively in her life visiting Asia, Europe, South America, Alaska, Canada and many other states.
Jill was so very loving, caring, sharing and hard working. She always worked six days a week until her disease overpowered her. She had a champion's heart till the end. Jill never understood how some people could be so crazy in love with their dog. Until one day, Ken brought home an 8-week-old puppy she named Daisy; Jill fell in love with Daisy, and they were constant companions until her passing.
Jill never met a stranger and once they met, they became her friend. Jill will be loved and never be forgotten by her many dear friends and family. Ken always called her the smartest woman on earth as she never experienced the pain of childbirth herself but still had 2 beautiful grandchildren whom she loved dearly, Rain Wammack and Christian Wammack.
Jill was preceded in death by her parents; her first husband; and other family members. She is survived by her husband, Ken; her step-daughters: Beth Wiesner Wammack, and Jennifer Wiesner; her grandchildren; her other family members; and her many friends.
Visitation will be 5-7 p.m., on Tuesday, May 24 at Smith North Little Rock Funeral Home. Funeral Service, with Pastor Roy Beth Kelley officiating, will be 9:30 a.m. Wednesday, May 25, 2022, at Lakewood United Methodist Church. Entombment will follow at Rest Hills Memorial Park Mausoleum, Highway 67 & 167, North Little Rock.
Jill was a long-time devoted member of Lakewood United Methodist Church and The Bob Millett Sunday School Class. In lieu of flowers, memorials may be made to The Bob Millett Sunday School Class or The Friends of Animals of North Little Rock.
Online guestbook www.SmithFamilyCares.com.
Published May 22, 2022
OBITUARY SUBMITTED BY:
North Little Rock Funeral Home
1921 Main St, North Little Rock, AR
E-mail: mail@nlrfh.com
Phone: 501-758-1170