Kathryn Lucy Samples Edens
Fayetteville, AR, 1929 - 2022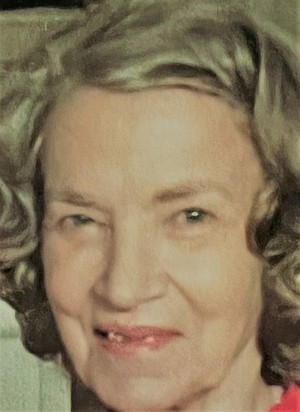 Kathryn Lucy Samples Edens, age 93, of Fayetteville, passed away Saturday, May 21, 2022. Kathryn was born February 26, 1929, in Witter, Ark., to Lee and Sophia Hoskins Samples. Kathryn married Leon Edens on January 9, 1947, in Madison County, Arkansas. They welcomed their son Lenwyn in 1948. Leon and Kathryn began their family life in Huntsville, and then moved to Fullerton, California. around 1950 where Leon worked for a plumbing company. They returned to Farmington, Arkansas, in 1956 and opened Edens Plumbing in Fayetteville, which they ran until 1984. They settled back into Fayetteville in 1960 where they owned multiple investment properties.
Kathryn (or Nanny as many called her) was a homemaker who loved books, her family and dear friends. She was known for her canned green beans and potatoes from her garden, and for her famous macaroni and cheese. She loved music, playing the piano and guitar, and listening to the rain with a hot cup of coffee. She danced in her kitchen with her granddaughters, washed all her dishes by hand, and dried her clothes on the line. She had strong opinions and was constantly striving to learn new things and further her knowledge of history. She proclaimed her faith and her love for Jesus at a young age and lived her life accordingly. Kathryn had a charismatic personality and did everything on her own terms and in her own unique way. She was kind, witty, funny, and inquisitive. Her family was blessed to learn many valuable life lessons from her, including to never take revenge, that family is ultimately all we have, to trust your intuition, and to always make time for that lunch date.
She is preceded in death by her husband, Leon Edens; her parents, five brothers and two sisters. She is survived by her son, Lenwyn Edens and wife Kathy (Earls); two granddaughters, Brook Fulcher and husband Jesse; Andrea Knight and husband Josh, and four great-grandchildren, Grayson and Sutton Fulcher and Emmie and Finley Knight, all of Fayetteville.
Visitation will be Wednesday, May 25, 2022, from 5-7 p.m., at Moore's Chapel in Fayetteville. Funeral service will be Thursday, May 26, 2022, at 11 a.m., at Moore's Chapel in Fayetteville, with burial to follow at Captain Smith Cemetery in Witter.
Published May 24, 2022
OBITUARY SUBMITTED BY:
Moore Chapel
206 West Center Street, P.O. Box 1149, Fayetteville, AR
Phone: 479-442-7314