Lascelles Ewen Lyn-Cook
of Little Rock, AR, 1950 - 2022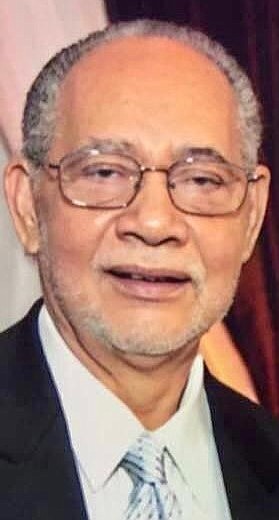 MR. LASCELLES EWEN LYN-COOK, was born on January 4, 1950 in Cave Valley, St. Ann, Jamaica, to the late Hubert Archibald and Dadsie Joyce Lyn-Cook. Lascelles transitioned to his heavenly home Thursday, May 26, 2022, at Baptist Hospital, Little Rock, Ark.
Lascelles received his elementary and high school education at the Munro Preparatory School, St. Elizabeth, Jamaica. After graduation, Lascelles worked with his father in the family wholesale business before coming to America for college. Lascelles graduated from Howard University 1976 in Washington D.C., with a Bachelor of Science in Zoology. He continued with work on his Master's in Physiology at UNC-Chapel Hill, North Carolina where he worked in the Physiology and Gastroenterology Department at UNC-Chapel Hill School of Medicine.
Lascelles joined the FDA/National Center for Toxicological Research (NCTR) in 1989, in the Department of Genetic Toxicology, where he worked on various research projects involving dietary restriction, mutagenesis, and DNA damage. He retired from NCTR in December 2015. Lascelles was a former President of the Central Arkansas Chapter of Blacks in Government. Lascelles was known at NCTR for his famous "Jerk" chicken during multicultural fairs. He was also an avid gardener known for his "Scotch bonnet" peppers.
Lascelles was preceded in death by his father and mother, Hubert and Joyce Lyn-Cook; two brothers: Kirk and Maurice Lyn-Cook; He leaves to cherish precious memories: a devoted wife, Beverly Lyn-Cook, PhD; a loving son, Lascelles Lyn-Cook, Jr.; brothers, Vincent Lyn-Cook, Beach Grove, Ind., Evol Lyn-Cook (Marcia), Kingston, Jamaica, and Francis Lyn-Cook, Toronto, Canada; three sisters: Lois Stewart (Kenneth), Ft. Myers, Fla., Marlene Lyn-Cook, Tampa, Fla., and Lorna Lyn-Cook Bramwell (Montague) Miami, Fla.;
a devoted mother-in-law, Mrs. Hattie Seldon, Columbus, Ga.; a dedicated father-in-law, Mr. Johnny Dawkins, Columbus, Ga.; three brothers-in-law: Dennis Seldon, Midland, Ga., Willie Seldon, Jr. (Gail), Ellerslie, Ga., Rev. Eric Seldon (Nina), Upatoi, Ga.; two sisters-in-law: Shirley Davis (Gaines), Midland, Ga., and Meisha Senior (Michael), Phenix City, Ala.; and a host of nieces, nephews, great-nieces and great-nephews, loving relatives, and devoted friends. The full obituary is located at: www.griffinleggetthealeyroth.com.
Published May 29, 2022
OBITUARY SUBMITTED BY:
Griffin Leggett Healey & Roth
5800 West 12th Street, Little Rock, AR
Phone: 501-661-9111