Isabelle Matthews Writt
Lexington, KY, 1929 - 2022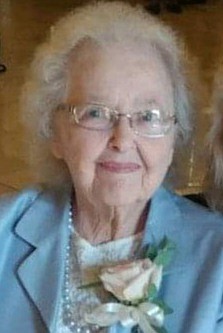 Isabelle Matthews Writt, August 1, 1929-October 30, 2022, beloved wife, mother, grandmother and great-grandmother, passed away peacefully surrounded by loved ones on Sunday, October 30, 2022. She is preceded in death by her late husband, Gordon M. Writt.
Isabelle attended the Cleveland Home in Versailles as a young child until she graduated high school. She was a member of and attended Arlington Christian Church where they raised their children and then they attended Eastland Church of God. After raising their children, she worked at Fabric Fair. She enjoyed sewing and quilting.
Isabelle is survived by five children, Gordon L. Writt (Donna), Marie Writt, Daniel E. Writt (Kimly), Jo Anne Writt (Rick), Jean Brooks, (Ron); 11 grandchildren; and 18 great-grandchildren; as well as her loving and wonderful caregiver, Krissy.
Services will be 10 a.m. Friday, November 4, at Kerr Brothers-East Main Street, with burial following in the Blue Grass Memorial Gardens. Visitation will be 9-10 a.m. Friday at the funeral home. In lieu of flowers, family requests donations to Bluegrass Hospice Care, 1733 Harrodsburg Road, Lexington, Ky. 40504.
Published November 2, 2022