Paul Ernest Luehr
of Little Rock, AR, 1927 - 2022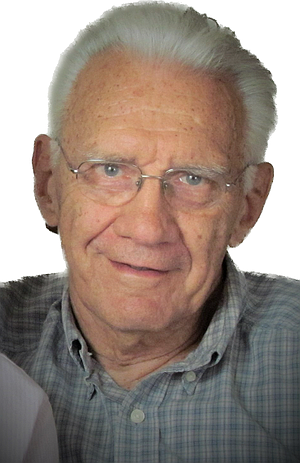 Paul Ernest Luehr of Oshkosh, Wis., and formerly Little Rock, Ark., went to be with his Lord on October 29, 2022. Paul was born November 15, 1927, and was raised in Elmhurst, Illinois, where he became a Boy Scout and achieved the rank of Eagle Scout.
He graduated from York High School in 1945 and joined the U. S. Coast Guard after graduation. He achieved the rank of Seaman 1st Class and was honorably discharged in 1947. Paul graduated from the University of Dubuque in 1951.
Paul worked for much of his career at World Book Encyclopedia, Chicago, Illinois, as Vice President of IT Operations worldwide. During this time, he lived in Lombard, Illinois, where he and his wife Muriel (Smith) had two daughters, Cheryl and Gayle.
In 1969, he met and married his wife of 45 years, Georgia Wycoff, of Little Rock, and welcomed Georgia's children, Anne, Kay, Sally, and Jeff Shamburger into his life. They lived in Wheaton, Illinois, for many years until all their children were grown. At that time, Paul took a position with the State of Arkansas Department of Education and worked there until his retirement in 1993.
Paul's friends and family all describe him as a truly kind man. He maintained a sense of humor throughout his life. Paul loved golfing, fishing, and camping. Over the years the whole family, including, Kay, Sally, Cheryl, Gayle, Jeff, and Ben (the dog), would pile into the station wagon for camping trips across the country.
After retirement Paul and Georgia lived in several places, including Arkansas, Florida, and Ohio, to be near their children. Paul most recently moved to Evergreen Retirement Community in Oshkosh, Wis., to be near his daughter Gayle.
Paul was preceded in death by his parents, Paul C. and Alma (Marquardt) Luehr; his beloved wife, Georgia; and his daughters, Anne Shamburger Martin, and Kay Shamburger Alford.
He is survived by his children, Sally Shamburger Stevens (Jim), of Harbor Springs, Mich., Cheryl Luehr Flaatten (Larry), of Burlington, Iowa, Gayle Luehr (Marla Janes), of Berlin, Wis., and Jeff Shamburger (Jim Brown), of Palm Springs, Calif. Grandchildren are Melissa Martin Brookover, Jeff Martin, and Tad Alford. He is also survived by his sister Alice Marzicola, of Bel Air, Md.; and his nieces, Susan Marzicola Walter (Grant), Carey Marzicola, and Carla Marzicola Harvey.
There will be a graveside service on Friday, November 4, 2022, at 10:30 a.m. at Roselawn Memorial Park, in Little Rock. Arrangements are under the direction of Ruebel Funeral Home. www.RuebelFuneralHome.com
In lieu of flowers, memorials can be made to the Alzheimer's Association, www.alz.org or a charity of your choice.
Published November 2, 2022
OBITUARY SUBMITTED BY:
Ruebel Funeral Home
6313 West Markham Street, Little Rock, AR
Phone: 501-666-0123
http://www.ruebelfuneralhome.com