Marjorie Louise Hohnbaum
of Sherwood, AR, 1934 - 2022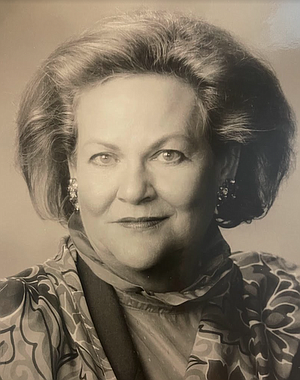 Marjorie Louise Hohnbaum of Sherwood Passed away October 18, 2022.
Hers was a wonderful life-you know, that George Bailey kind, in which the person is so busy living she doesn't realize the positive impact she has on so many. Loving parents Robert and Lela Kirkhart, with their seven-year-old daughter Joy, of Lucien, Okla., welcomed newborn Marjorie Louise Kirkhart on June 27, 1934; baby sister Bobbie would join them nine years later.
From her beginning, she blazed like a giant firework aiming high, reaching many directions in colorful, jubilant splendor from a robust, confident core to share energy and light. Firecracker Marji earned many monikers throughout her chosen and accidental paths. Immediately- Daughter. Sister. Niece. Cousin. Friend. Methodist. Oklahoman. Then- Student. Marj. Spike. Cheerleader. Athlete. Pianist. Aunt Marji. Collegiate. Washingtonian. Intimately- Cec's Forever Sweetheart. Wife. Mrs. Hohnbaum. Mother. Momma. Big Blue. Ma. Laidladdie. Marmee. Mom. Georgian. Preacher's Wife. Includer. Arkansan. Confidant. Leader. Coloradoan. Self-Starter. Finisher. Casa Bonita Manager Spouse. Lifelong Learner and Manager. Class Act. Survivor. Touchstone. (insert drumroll) GrandMarj! Faithfully- Child of God. Choir Member. MAJNUTL Club Creator. Walter's Seekers Facilitator. Back to the Future of Faith Coordinator. Autumn Festival Fortune-Teller. Board of Steward Member. CEC Board Director. SPR Member. Faithful Spirit. Professionally: Retail Clerk. Gift Wrapper. Torch Singer. Journalist. Bookkeeper. Romper Room's Miss Margy. Homemaker. Cotton Chopper. Irrigation Pipe Mover. Mary Kay Consultant. Teacher of Head Starters, Struggling Readers, and Realtors. Realtor. Broker. Chair, Arkansas Real Estate Commission. President, Arkansas Realtors Association. Director, National Association of Realtors. Perpetually- Phoenix. At her core, she was a Sharer of All She Could Give planting "kisses on top of the head that never go away," personifying the "long walk is part of the gift," and embodying "the only things we ever really keep are those we give away."
Marj, 88, passed away quietly Tuesday morning, October 18th, yet her legacy endures with sons, Mark Lane Hohnbaum, David (Dixie) Hohnbaum, Paul Hohnbaum; daughters, Sherah Hohnbaum Fulton (Keith), Prisca Hohnbaum Selhorst (Mark); grandchildren, Caleb Hohnbaum, Erin Hohnbaum (and spouse Jackson Farrow), Paul Hohnbaum (Kate Burnett), Jacob Hohnbaum (Michelle Lucas), Tyler Hohnbaum (Brooke Wilson and son Beau), Jesse Hohnbaum (Grace Grubb), River Warnock, and brother, Sterling, Sullivan, Liam and Tallulah Selhorst; great-grandson George Farrow, and soon to arrive Wilson Farrow; nieces Linda Robinson Plummer (Buddy) and Monica Kirkhart Waggoner (Matt); and nephew Bill Robinson.
Celebration of Life service will take place Saturday, November 12th, 3 p.m., at NLR First United Methodist Church, with continued celebration and fellowship immediately following at the Argenta Community Theater. All who loved Marj and her family are invited; please dress colorfully and comfortably. For more information, contact sherahwarnock@gmail.com. Memorials may be made to NLR First United Methodist Church Music Ministry or a charity of your choice. Please visit www.smithfamilycares.com for the online guestbook.
Published November 4, 2022
OBITUARY SUBMITTED BY:
Smith Sherwood Funeral Home
7700 Hwy 107, Sherwood, AR
Find it at: Sherwood
E-mail: sherwood@smithfamilycares.com
Phone: 501-834-1191
http://www.husonfuneralhome.com/