Malcolm Brinkley Pearce
Hot Springs, AR, 1935 - 2022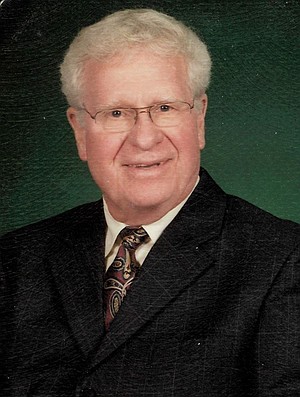 Dr. Malcolm Brinkley Pearce of Hot Springs, Ark., died on Monday, Oct. 31, 2022 at the age of 87. He was born on Oct. 10, 1935 to James Malcolm and Leola (Brinkley) Pearce of Gordonville, Texas.
Dr. Pearce is survived by his beloved son Malcolm Brian Pearce of the home, daughter Kristen Leigh Pearce of Little Rock, AR, daughter Karen (Robert) Garrett of Woodway, Texas, daughter Terri (Mark) Szabo of Arlington, Texas, and grandchildren Brandon, Clare, and Kate. Dr. Pearce was preceded in death by his beautiful wife of 55 years, Sue, his parents, Brother James Richard Pearce, and his maternal and paternal grandparents.
Dr. Pearce graduated from Whitesboro High School, Arlington State College, and University of Texas and completed his residency at UAMS in Little Rock, Ark. He was an avid Arkansas Razorback fan. While pursuing his life goals and becoming a Cardiologist, Dr. Pearce met the love of his life, Sue Leonard. They were married on February 12, 1967. They were married for 55 years until Sue's passing. There were many special events wrapped in those 55 years with Dr. Pearce serving in Philippines as a Captain in the United States Air Force, starting a family with Sue with the births of Brian and Kristen, and both Sue and Dr. Pearce devoting their lives to health care. Dr. Pearce was a Partner in South Arkansas Heart and Vascular of Pine Bluff and served his patients in Pine Bluff, Little Rock, Dumas, Monticello, and Crossett, Ark.
Dr. Pearce's lifetime accomplishments included his devotion to family, cardiology, research, and charity work. Sue and Dr. Pearce hosted numerous charitable events and parties for many special occasions and important causes close to their hearts. Hosting large special events and fundraisers was one of the many ways Dr. Pearce gave back to his community. He was an extraordinary and supportive person to the people he loved. To his children, Brian, Karen, Terri, and Kristen, he was a loving Dad. To his patients, he was a compassionate doctor and to his community he was kind and giving. Dr. Pearce was cared for by his loving son Malcolm Brian at home until his death. Dr. Pearce had a long and successful career as a Cardiologist. At retirement, Sue and Malcolm moved to Hot Springs on the lake. After several years, Sue's health declined and she began her long battle with dementia, but Dr. Pearce was at her side daily. His death could have been from a broken heart after losing Sue this past May.
Today, we ask that you remember the good times and special moments you had with Dr. Pearce. Early Monday morning Dr. Malcolm Brinkley Pearce made his heavenly flight to meet his Holy Father. He is no longer facing problems of this world, worry or fault. Today he is with his loving wife, his father and mother, and his brother and is standing perfect and whole in midst of God's Glory and Righteousness.
Funeral services will be held at the First United Methodist Church, 1100 Central Ave., in Hot Springs, Ark., with services to begin at 11 a.m., on Wednesday, Nov. 9, 2022.
Family and Friends are welcome to a special viewing and greeting of the family prior to the services, beginning at 10 to 10:50 a.m.
Services provided by Caruth-Hale Funeral Home, 155 Section Line Road, Hot Springs, Ark.
Online condolences at www.caruth-hale.com.
Published November 6, 2022
OBITUARY SUBMITTED BY:
Caruth-Hale Funeral Home
155 Section Line Road, Hot Springs, AR
Phone: 501-525-0055
http://www.caruth-hale.com