Debra Sandlin (Whiteside) Jones
Gentry, AR, 1982 - 2022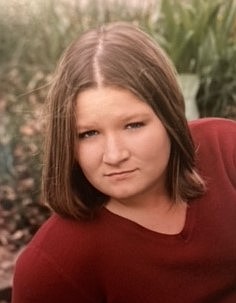 Debra Sandlin (Whiteside) Jones, 40, entered eternal rest on Nov. 10, 2022. Debra was born on June 30, 1982 in Rogers, Ark., to Rudy and Brenda Sandlin Whiteside.
Debra was a graduate of the 2000 Class of Bentonville High School. Debra was married to Justin Jones on Feb. 3, 2012. Debra loved the outdoors. She loved growing flowers and vegetables. Justin was always recruited to help. She and Justin shared a love of cooking. As a child, Debra's favorite times were spent with her Aunt Rhonda, her sister Casey, and her cousins camping and fishing the Elk River. Debra often requested Justin take her camping on the Elk River for her birthday. Through her teen years, Debra loved going to Green Valley Bible Camp each summer. Debra loved her children and going to their activities.
Debra was preceded in death by: her grandparents; Ed and Daisy Sandlin, and Cecil Jewel Whiteside.
She is survived by: her husband, Justin Jones of Gentry; her three children, Daisy Diane, Malachi Ray, and Jewel Marie Sequichie; her parents, Rudy and Brenda Whiteside; her sister, Casey Scarborough; and her grandmother, Juanita Marie Whiteside.
Services for Debra will be at the Bentonville Church of Christ, on Saturday, Nov. 26. Visitation is 10-11 a.m., with a Celebration of Life following the visitation.
In Lieu of Flowers, donations in memory of Debra, may be made to Green Valley Bible Camp, PO Box 65, Rogers, Ark., 72757.
Condolences to the family: www.eptingfuneralhome.webs.com.
Published November 20, 2022
OBITUARY SUBMITTED BY:
Epting Funeral Home
709 N. Walton, Bentonville, AR
Find it at: corner of Walton and College
E-mail: eptingfuneralhome@inbox.com
Phone: 479-273-3443
http://www.eptingfuneralhome.webs.com/