Martha Ellen Faulkner
of North Little Rock, AR, 1933 - 2022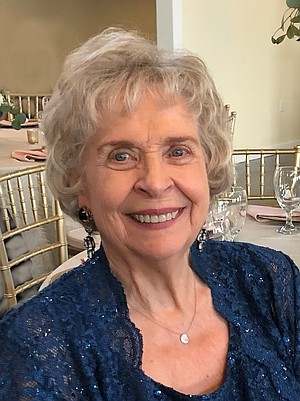 MARTHA ELLEN FAULKNER, 89, of North Little Rock, Ark., passed away on Friday, October 7, 2022. Martha was born February 23, 1933, in Oklahoma City, Okla.
Martha was a kind and gentle soul who always put her family first. She treated everyone she met with love and kindness. She spent her lifetime caring for her husband "JJ" Jack, her sons Mike and Steve, and eventually being the best "Grandmother" to all her grandchildren.
Martha embodied the true meaning of what love and friendships should be. She had a group of lady friends that met frequently to watch Razorback games and various television programs. Those friendships meant so much to her. She also valued the new friendship she made with Sharon Johnson, her Visiting Angel. Her neighbors, Steve and Brenda Shadid, got her mail daily, checked on her often, brought her food and showed her love in so many ways. She frequently shared with family members the kind thoughtful ways the Shadids and Sharon cared for her. All that knew Martha cared for her deeply and always felt loved by her. She just had that loving gentleness about her that made all that met her feel comfortable and loved. She also loved her church family and valued the friendships of all the members in the congregation. She was a member of Embassy Church in North Little Rock.
Her faith in the Lord was exemplified in the way she lived her life. Proverbs 17:17 "A friend loves at all times, and a brother is born for a time of adversity." She had a great love for God and her neighbors. She offered genuine love and true Christian fellowship. John 13:34 "A new commandment I give to you, that you love one another: just as I have loved you, you also are to love one another." She spent a lifetime being a true and faithful servant of the Lord.
Martha was preceded in death by husband "JJ" Jack Faulkner; her parents, Homer and Norma Jones of Russellville, Ark.; and one sister, Madeline Dunlap of Kirby, Ark.
She is survived by sons, Mike Faulkner (Rennette), Steve Faulkner (Roberta); grandson, Ryan Faulkner (Ariela); granddaughters, Julia, Rachel and Reagan Faulkner.
Visitation will be at Roller-Owens Funeral Home, Thursday, October 13, 2022, from 6-8 p.m. The funeral will be at Embassy Church, 500 Parkdale St, North Little Rock, Ark., 72117, Friday, October 14, 2022, at 10:30 a.m. She will be interred at the Arkansas State Veteran's Cemetery, with her husband JJ.
In lieu of flowers donations can be made to Embassy Church, 500 Parkdale St., North Little Rock, Ark., 72117.
Online guestbook is available at www.rollerfuneralhomes.com/owens.
Published October 9, 2022
OBITUARY SUBMITTED BY:
Roller-Owens Funeral Home
5509 John F. Kennedy Blvd., North Little Rock, AR
Phone: 501-791-7400