William Martin Schneider
Fayetteville, AR, 1940 - 2022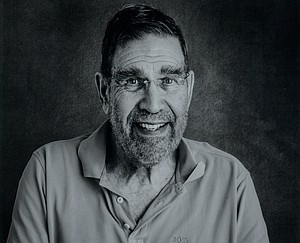 William Martin Schneider was born in Richmond, Va., to Florence (Fine) Schneider and Milton Schneider.
Bill graduated from high school in Greensboro, N.C., in 1958 where he was active in the Aleph Zadik Aleph (AZA) fraternity. He then went on to the University of North Carolina where he was a member of Zeta Beta Tau (ZBT). A man of wide experience, Bill had a variety of part-time jobs while in high school and college. He sold men's clothing, drove a late-night taxi and a commercial truck, worked for an accounting firm, was an admissions officer at the UNC hospital, worked in the library at UNC, and was an assistant in the UNC sociology department.
At UNC, he received a bachelor's degree in business (accounting) in 1962, a law degree in 1964, an M.A. in anthropology in 1967, and finally a Ph.D. in anthropology in 1974. He was awarded a National Defense Education Act fellowship for graduate study and a National Science Foundation grant for his dissertation study. He attended an ethnographic methods field school in Great Whale River, Canada, and spent two years living among the Selako Dayak of Borneo, during which time he gained fluency in Indonesian. He was on the anthropology faculty for a year at Rollins College in Florida before going to Borneo. In 1971 he accepted a faculty position in cultural anthropology at the University of Arkansas in Fayetteville where he worked for 25 years.
His wife, children, and grandchildren know that Bill always looked after their best interests. He read fairy tales to his children, lifted them up to see the moon, taught them to read and write and did his best to remember calculus. He modeled patience, integrity, and honesty. Bill had an encyclopedic knowledge of a wide range of subjects--science, social science, literature, and the arts. His research was meticulous. Bill made sure that his wife of 47 years knew how deeply he loved her. Three of his children obtained medical degrees at the University of Arkansas for Medical Sciences. Daniel is a pathologist in Amarillo, Texas. Michael is an anesthesiologist in Little Rock. Annie is a pathologist in Springfield, Mo. Jake is a lawyer in Philadelphia, Pa., and Bekah is an artist in Fayetteville. Having successful children was the accomplishment of which Bill was most proud. Bill Schneider was a thoroughly good man. An exceptional man.
Bill is survived by his wife, Mary Josephine Grinstead Schneider, three sons, two daughters, three daughters-in-law, one son-in-law: Dr. Daniel Lewis Schneider and Mary Sears Schneider of Amarillo, Texas; Dr. Michael Glasson Schneider and Rachel Reynolds Schneider of Little Rock, Ark.; Dr. Anne Schneider Hayes and Dr. David Powell Hayes of Springfield, Mo.; Rebekah Ellen Schneider of Fayetteville, Ark.; and Jacob Stephens Schneider and Deirdre Aaron of Philadelphia, Pa. Also surviving are nine grandchildren: David, Lucy, Henry, Cecelia, Jack, Reynolds, Adele, William, and Oscar; and a sister, Esta Schneider Geoffroy of Atlanta, Ga. He loved them all dearly, and they admired and respected him.
A graveside service will be held at 3 p.m., Tuesday, October 11, at Fairview Memorial Gardens in Fayetteville by Nelson Berna Funeral Home. To place an online tribute, please visit www.bernafuneralhomes.com.
Published October 11, 2022
OBITUARY SUBMITTED BY:
Nelson-Berna Funeral Home and Crematory
4520 North Crossover Road, P.O. Box 8982, Fayetteville, AR
Phone: 479-521-5000
http://www.nelsonberna.com