Fredrick E. Agee
Marshfield, MO, 1935 - 2022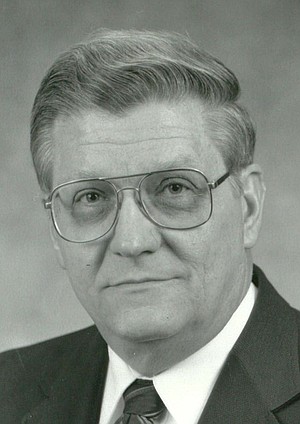 Fred Agee, 87, of Marshfield, Mo., went peacefully to see his bride of 68 years on October 8, 2022. He was born the youngest of six surviving children, in Old Hickory, Tenn., on May 20, 1935. Fred, a retired minister, spent his whole life dedicated to serving the Lord.
He was preceded in death by his wife, Mildred; his parents, Willie and Pearl; two brothers, Eddie and Talmadge Agee; two sisters, Willene Rosa and Ruth Whited; his son-in-law, Glen Walser; and great-grandson, Grant Williber.
He is survived by his sister, Carrie Knox; three sons, Rick, Dick, and Mike Agee; two daughters, Vickie Hollingsworth and Michelle Walser; 20 grandchildren; 38 great-grandchildren; two great-great grandchildren; and a pastoral flock in the hundreds.
Fred grew up knowing the value and need of hard work. His father died when Fred was young, being buried on Fred's fifth birthday. With the country still in the grasp of the Great Depression, money was tight for a widow with six children. Fred began working while still a young boy to help his mother, starting as a "soda jerk" at the local pharmacy, and doing other odd jobs.
He got his first crush on the new pastor's daughter. When he found that they were moving back to Ohio, they escaped on a bus and got married in a nearby state. He was 16, but had possessed the maturity and responsibility of an adult. Despite the warranted views of family and friends about the longevity of this marriage between two kids, Fred and Mildred were married almost 68 years having five children. The marriage only ended when Mildred died in January of 2019. Since then, Fred never missed a chance to tell family, friends, and even complete strangers how much he loved her, how much he missed her, and that he could not wait to see her again.
Fred was raised in church, even joining a gospel quartet, that traveled throughout the Southeast. After a stint as a traveling sales representative for the National Shirt Co., he found his true calling. In 1957, he was ordained as a minister in the Church of the Nazarene, where he served in various pastorates for the next 50 years.
Starting a rural part of Tennessee as a circuit preacher, he pastored two small country churches, but also worked at the funeral home to help supplement his income. He used to say he often prayed with the departing soul, helped embalm the body, dig the grave, and then preach the funeral. From this humble beginning, he left to become a missionary to Panama, taking his wife and then three children. He became the first Protestant missionary to preach to the Kunas, an indigenous tribe in the interior jungle of Panama.
Having to leave the mission field early, for health reasons, he began pastoring various churches in Middle Tennessee area, finally ending up after almost 20 years coming back to his home church, the church from where he had eloped in the Old Hickory, Tenn.
His next pastorate was Rogers, Ark., where he served his longest tenure, 24 years. He retired for a short while, still serving as interim pastor and evangelist, as needed. He returned for a short time to full-time pastor in Missouri, but soon due to ill health, retired permanently. Still resistant to idleness, he officiated at funerals, weddings, and baby dedications when asked.
Fred was known for both his hard work, his dedication to his church, and his devotion to God and his family. He loved to preach and had dozens of entertaining stories about his career over the decades both in the U.S. and abroad. What always came through were his love of people and his sense of humor.
Like many great men, Fred touched many lives and had a positive impact. Even he could not realize the scope of all of the good that he has done. He will be dearly missed by his family and friends, but we are glad he went to be with Mildred. It was a remarkable love story.
Visitation will be held on Saturday, October 15, 2022, 9-10 a.m., at Walnut Lawn Funeral Home, Springfield, Mo. Fred's funeral service will follow at 10 a.m. A second funeral service will be held later that afternoon at 2:30 p.m. at the Mausoleum Chapel at Benton County Memorial Gardens in Rogers, Ark., where he will be laid to rest next to Mildred.
Arrangements are under the direction of Walnut Lawn Funeral Home, Ltd. – DeGraffenreid-Wood-Crematory, Springfield, Mo.
Published October 12, 2022