Mattie Lee Ames Luce McCanne
Blevins, AR, 1907 - 2022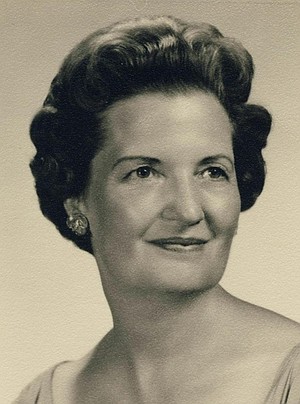 Born in Washington, Ark., October 12, 1907, Mattie Lee died July 29, 1999, in Rancho Cordova, Calif..
Mattie Lee was the daughter of G. B. Ames (1861-1933) and Frances Cromer (1875-1926), and sister to Stella Cromer (1883-1968), Pearl Brown Perkins (1885-1954), Constance Eley Reaves Sanford (1896-1964), Guy Chetwood Ames (1897-1964), Violet Gaines (1900-1958), Walter Cromer Ames (1903-1979), and Ruth Bryant (1912-2003).
Mattie Lee grew up in Blevins, Hempstead County, Ark., and graduated from the Arkansas State Teachers College (now the University of Central Arkansas) in 1929, the first woman in her family to go to college. She met her husband, Paul Luce, in 1932. They married the following year, and made their home in Paul's hometown of Perryopolis, Pa., where they raised their two sons, Paul Donald "Don" Luce (1935-2017) and Lee Ames "Ames" Luce. Mattie Lee taught English and Paul taught science at the local junior high and high schools.
From 1956 to 1958, Paul and Mattie Lee moved to East Pakistan, where Paul built and equipped an agricultural workshop and Mattie Lee taught in the American School. From 1963 to 1965, they lived in Akure, Nigeria, where Paul was an advisor to the school of agriculture.
When Paul died in 1970, Mattie Lee moved back to Arkansas after a short stay in Brownsville, Texas. She met her second husband, Wilson Parker (Mack) McCanne (1904-1986) in Hot Springs, and they enjoyed several happy years together.
Mattie Lee was proud of her education and teaching career, and she loved traveling. She explored the world with her first husband, Paul, and spent many happy vacations in Hawaii, Alaska, and California. She also loved fine clothes and jewelry, and was always beautifully and fashionably dressed.
As her health began to fail, Mattie Lee moved to Rancho Cordova, Calif., to be closer to her son, Don, who took loving care of her until her death in 1999. Her ashes were returned to Perryopolis, where she was interred in Mount Washington Cemetery, next to her husband, Paul.
Mattie Lee is survived by her son, Ames, his wife Connie; daughter-in-law Audrey Luce (Don's widow), four grandchildren; and six great grandchildren.
Published October 12, 2022
OBITUARY SUBMITTED BY:
Memoriams.com
391 Inverness Parkway, Suite 300-B, Englewood, CO
E-mail: helpdesk@memoriams.com
Phone: 877-705-4995