Jewel Berniece Buchanan-Holland-Starkey
of North Little Rock, AR, 1929 - 2022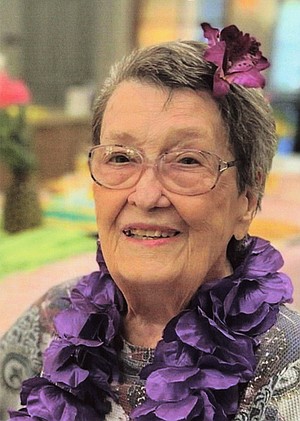 JEWEL BERNIECE BUCHANAN-HOLLAND-STARKEY, 93, of North Little Rock, Ark., passed away October 16, 2022. Jewel was born on May 7, 1929, to Lloyd Bailey Buchanan and Mary Lee (Berry) Buchanan-Jarvis, in Blanchard, Okla., on Cherokee Land. She was the eldest of four children. She had one sister, Lotta Mae Buchanan-Kimbrough, two brothers Raymond Ray and W.T. Her youngest brother W.T. only lived nine months. Later in life she had a stepfather Thomas Benson Jarvis and Ruth Georgia Buchanan.
On February 11, 1956, Jewel married Freddie Eugene Starkey. Dad survives her today and we are blessed because of it. She had five children: Bill Holland and Wanda Holland-Mundy-Swanson from a first marriage, Deborah Starkey-Czak, Freda Starkey-Zoch, and Freddie Eugene Starkey, Jr. Deborah preceded her in death on November 22, 2014.
Across the years her children married and at the time of her passing, her son Bill, gave her two grandsons, Bill Jr. and Brian Holland, two granddaughters Tanya Holland-Swopes and Kelsee Holland, three great-grandsons: Joshua and Jarrett Holland, and Gavin Swopes and two great-granddaughters Brianna Holland and Lila Swopes, and three great-great-grandchildren Kenzie Blevins, and Jamie and Jackson Holland. Bill's wife is Jessie Holland.
Her daughter, Wanda, gave her one granddaughter Brook Mundy-Wright-Harman and one grandson Scott Mundy. Brook gave her two great grandsons William Feldman and Noah Wright. Scott is unmarried.
Her daughter Deborah Starkey-Czak gave her a grandson (lost in miscarriage) and a second grandson Lonnie Czak, Jr. Her husband was Lonnie Czak, Sr.
Her daughter Freda Starkey-Zoch gave her two grandsons Robert and Jason Starkey-Zoch, five great-granddaughters, Shayla, Hannah, Kasi Sue, Kalinda and Scarlett, and two great-grandsons Jason Lane and Ryan Starkey-Zoch. Her husband is Arthur "Butch" Zoch.
Her son Freddie gave her four granddaughters, Kasie, Meghan, Christina, and Joana Starkey, and one grandson Jonathan Starkey.
They all called her Nana.
She had two sisters-in-law, Mary Pearl Buchanan, married to her brother Ray, and Dorothy Starkey-Banks sister to her husband Freddie.
She had four brothers-in-law, Frank Kimbrough, Sr., married to her sister Lotta, Lonnie Banks, Buddy and Larry Starkey, brothers to her husband
Freddie.
She had three nieces Barbara Bohanan, Annette, and Vickey Buchanan. She had five nephews, brothers, Dean Kimbrough Jr, Timothy, and Roger Kimbrough, Michael, and Jerry Starkey.
In the order of her life, Jewel had many names: daughter, granddaughter, cousin, niece, Wife, Mom, Aunt Jewel, sister-in-law, and friend.
The Lord God had names for her, too: Redeemed of the Lord, Saint of God, Child of God, Friend of God and Faithful to the end. She now has a new name which we won't know until we see her again.
Jewel received Jesus Christ, and was saved, at age 20. She served the Lord for over 73 years.
Her mother, Mary Lee, was an evangelist and preacher of the Gospel. Her stepfather, Tommy, led the worship. Jewel last attended church at Christian Assembly in Sherwood, Ark., a church that she loved.
Jewel never failed to tell family, friends, and those she didn't know that "Jesus loves you". Whenever a life problem arose, or counseling or wisdom was needed, if her counsel was sought, she always took them to the Word of God.
In her life she had good times and bad, mountains and valleys, ups and downs on this rollercoaster of life but her faith in the Lord Jesus Christ never wavered or faltered. Many "someone's" approached her with false doctrine, but her answer was always the same: "Don't bother. I am well satisfied."
In her work life she held the recorded record for lacing a pair of moccasins at 13 seconds. She also worked for Mattel and made Hot Wheels and Barbies. Her very first job, though, was at age seven in 1936, pulling a 100 lb. cotton sack in the fields.
She was loving, warm and a romantic at heart. She was, for a while, a single mom, raising two children on $15.00 a week but she never failed to pay her Tithes each Sunday. God met all her needs.
She enjoyed pruning her roses, doing crafts especially her sequined calendars for her children and Christmas time. Her favorite bird was the Eagle, and her favorite color was purple.
She cooked from scratch and her fried pies and cobblers were legendary.
Over her life she lived in Oklahoma, Arkansas, New Mexico, Texas, and California. Now, she resides in Heaven with her Lord and Savior Jesus Christ and all her family and friends gone on before her.
Well can she say, "I have fought the good fight, I have finished my course, I have kept the Faith: Henceforth there is laid up for me a Crown of Righteousness, which the Lord the Righteous Judge, shall give me at that day: and not to me only, but unto all them also that love His appearing. 2 Timothy 4: 7-8. Amen.
A memorial service will be held at 2 p.m., on Saturday, October 29, 2022, at Christian Assembly of God (10601 Hwy 107). Please visit www.smithfamilycares.com for the online guestbook.
Published October 25, 2022
OBITUARY SUBMITTED BY:
Smith Sherwood Funeral Home
7700 Hwy 107, Sherwood, AR
Find it at: Sherwood
E-mail: sherwood@smithfamilycares.com
Phone: 501-834-1191
http://www.husonfuneralhome.com/