Chester Clarence Lowe Jr
of Little Rock, AR, 1939 - 2022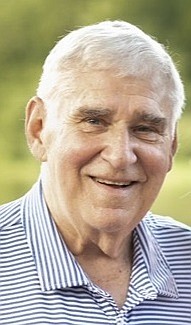 Chester Clarence Lowe, Jr., of Little Rock, died peacefully October 24, at UAMS. He was born September 2, 1939, in Little Rock, to Chester Clarence Sr. and Frieda McClure Lowe.
Chester was a graduate of Little Rock Central High School and the University of Arkansas, where he was a proud member of Sigma Nu, making lifelong and special friends. Following active military service in the US Army as Lieutenant, Infantry, First Cavalry Division stationed in Korea, he attended law school at the University of Arkansas where he was on Law Review.
He continued in the US Army reserves and retired as a captain in 1969. In 1967 he married Jane Turner of Fort Smith. His work as an attorney took them to Washington D.C., where he was in the legal division of the FDIC. They returned to Little Rock in 1968 for Chester's private law practice. His children, Catherine and Mitchell, were born in 1969 and 1970. Chester practiced law for 56 years.
Chester was a member of Second Presbyterian Church, where he served as a Deacon, Elder, Clerk of the Session, and Superintendent of Sunday Schools. He served on the United States Golf Association Junior Amateur Championship Committee for 33 years and on the U.S. Open Rules Committee for 21 years. He was President of the Arkansas State Golf Association for four years, and was inducted into the ASGA Hall of Fame in 2007. Chester was a co-founder of the Riverdale Soccer Club in 1979. He was a longtime member of the Country Club of Little Rock.
Chester was preceded in death by his parents; and brother in-law, Carl House.
He is survived by his wife, Janie; his daughter, Catherine Lowe Reber and Kevin of Bowling Green, Ky.; his son Mitchell Hartford Lowe and Sarah Beth of Little Rock; and his beloved grandchildren, who fondly called him D-Dad; Miriam Jane Reber and Charles Lowe Reber; Mitchell Hartford Lowe, Jr., Alexander Bailey Lowe, and Hayes Walton Lowe; his sister, Diana Lowe House of Little Rock; sisters-in-law, Anne Turner of Little Rock and Patti Turner Lueck and Dan of Hot Springs Village, Ark.; and numerous cousins, nieces and nephews.
A visitation will be held at Second Presbyterian Church in Little Rock on Thursday, October 27 from 4:30-6 p.m.
A memorial service will be held at Second Presbyterian Church on Friday, October 28 at 11 a.m. with the Rev. Jody Welker and the Rev. Alisa Secrest officiating.
In lieu of flowers, donations may be made to Second Presbyterian Church 600 Pleasant Valley Dr. Little Rock, Ark. 72227, or UAMS Winthrop P. Rockefeller Cancer Institute 449 Jack Stephens Dr. Little Rock, Ark. 72205.
Arrangements are under the direction of RuebelFuneralHome.com.
Published October 26, 2022
OBITUARY SUBMITTED BY:
Ruebel Funeral Home
6313 West Markham Street, Little Rock, AR
Phone: 501-666-0123
http://www.ruebelfuneralhome.com