James Edmund Halligan
Stillwater, OK, 1936 - 2022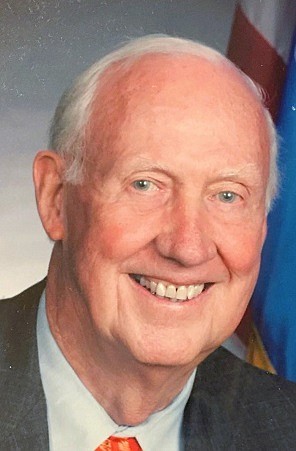 James Edmund Halligan, 86, of Stillwater, Okla., passed away peacefully, surrounded by his family, on Tuesday, on October 25, 2022, in Oklahoma City. Funeral services have been entrusted to the care of Dighton-Marler Funeral Home of Stillwater.
James was born on June 23, 1936, in Moorland, Iowa, to Raymond and Ann (Crawford) Halligan. He graduated in 1954 from Moorland High School, and later enlisted in the United States Air Force where he served as Staff Sergeant until 1958.
James met the love of his life, Ann Halligan (Sorenson), and they were united in marriage on June 29, 1957. James and Ann were happily married for 65 years. To this union they had three sons, Michael, Patrick, and Christopher Halligan.
James attended college at Iowa State University obtaining a BS, MS, and Ph.D in Chemical Engineering. James served at Texas Tech University, University Missouri-Rolla, University of Arkansas, and New Mexico State University.
Following this, he served as the 16th President of Oklahoma State University. As a legislator and educator, James loved his work and spending time with his students. Although James obtained many accolades throughout his personal life and career, he was described as having a very humble spirit by many.
James was preceded in death by his parents; one sister, Patricia Cooper; three brothers, Sidney Halligan, Raymond Halligan, and Bill Halligan.
James is survived by his wife, Ann Halligan, of the home; three sons, Michael Halligan and wife Glenna of Houston, Texas, Patrick Halligan and wife Tracey of Little Rock, Ark., Christopher Halligan and wife Sarah of Charlotte, N.C.; James was blessed to have eight grandchildren; four great-grandchildren; and many friends.
A Rosary will be held on Friday, October 28, 2022, at 7 p.m. at St. Francis Xavier Catholic Church, 711 N. Country Club Rd., Stillwater, Okla. 74075. A Mass of Christian Burial will be held at 10:00 a.m. Saturday, October 29, 2022, at St. Francis Xavier Catholic Church in Stillwater, Okla. A private Inurnment will follow at Fairlawn Cemetery.
The family requests memorial donations be made to the Oklahoma State University Foundation, or St. Francis Xavier Catholic Church in c/o Dighton-Marler Funeral Home, 5106 N. Washington, Stillwater, Okla. 74075.
For those who are not able to attend the service, it can be viewed live at https://www.sfxstillwater.org.
Online condolences may be left for the family through the funeral home website at www.dightonmarler.com.
Published October 27, 2022