Robert A. Reynolds
Harrison, AR, 1933 - 2022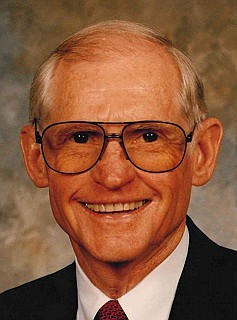 Robert A. (Bob) Reynolds, 89, retail businessman and former Mayor, passed away on October 26, 2022. Bob Reynolds was born on June 20, 1933, in Memphis, Tenn., the only child to P.L. and Eileen Pasley Reynolds. Reynolds was affectionately nicknamed, Salty, by his father and this followed him throughout his life.
Reynolds grew up in Moro, Ark. and was educated at T.A. Futrall High School in Marianna, Ark., graduating in 1951. He joined the U.S. Navy that same year. Following his Korean War service, Reynolds attended the University of Arkansas on the GI Bill and was a first-generation college graduate, graduating in 1957. He was a proud member of the Sigma Chi fraternity and was always proud to share that he was an Eagle Scout.
At the University of Arkansas, he met and married the former Sandra Hudspeth. Married in September 1957, the couple moved to Springfield, Mo.. After a time in the management trainee program at J.C. Penney, he and Sandra moved back to Harrison to co-own and manage Walters Department Store on the downtown square with his father-in-law, the late Verl Hudspeth, the late Ben C. Henley, and his son, the late Ben N. Henley. Reynolds and his business partners kept the company whole through The Flood of 1962 (which created a lifelong aversion to even the lightest rain and an obsession with having and checking a rain gauge). Reynolds and his wife purchased the business outright in the early 1980s and continued ownership until selling to Lefler's in the early 2000s.
Reynolds was accomplished at kayaking, canoeing, backpacking, and running. He spent a month in 1979 backpacking in Nepal and for many years traveled to Wyoming with family and friends to backpack and fish. He was an avid outdoorsman with any spare time spent with friends and family floating or camping on and around the Buffalo, as well as much time at the Holiday House on Bull Shoals Lake at Diamond City.
Reynolds was named Arkansas Retailer of the Year. Through his church, he served as Board Member and Chairman of the Emergency Children's Home (ECHO) in St. Louis, Mo. He was a member and Past President of the Harrison Noon Lions Club. He served as Chairman, Harrison Chamber of Commerce; Chairman, Boone County Airport Board; Chairman, Boone County Hospital Board (NARMC); and Chairman, First Christian Church Board and Elders. He was instrumental in establishing Harrison as a Main Street Arkansas Town, an early downtown revitalization program. Then-Governor Bill Clinton awarded the designation to the city in 1984.
In November 1998, after serving six years on the Harrison City Council, Reynolds was elected Mayor and was immediately dealt a natural disaster to manage with the ice storm that occurred at the outset of his first term. He was selected Mayor of the Year in 2000 by the Arkansas Association of Chiefs of Police. He saw many accomplishments as mayor, but one important legacy to him was the establishment of the Harrison Community Task force on Race Relations in 2003. He was an avid supporter of the Arkansas Municipal League being honored with the Adrian White Municipal Leadership Award in 2004.
He impressed upon his family the importance of education, being active in and giving back to your community, that somehow you could survive without air conditioning, and a never-ending love for being physically active, enjoying the outdoors, and rooting for the Razorbacks and the St. Louis Cardinals. He planted a garden every year and would evaluate his approach or other factors that might have impacted the good or not so good bounty each year.
Reynolds was predeceased by his parents; and daughter-in-law, Jackie Green Reynolds.
He is survived by his wife of 65 years, Sandra; his children: son, Mike Reynolds, daughter, Holly Gillies, son, Chris Reynolds and his wife, Tammy, daughter, Sarah Gheen and her husband, Jon. He is also survived by grandchildren, Bourgon Reynolds and her husband Dr. Brad Meredith, Christian and Alexander Gillies, August, Zoe, and Ella Kate Reynolds, Meredith, Grace, and Jack Gheen. He is also survived by great-grandchildren, Juniper and Lillian Meredith.
Reynolds was a long-standing member of the downtown coffee club that started at the Snack Shack just off the Harrison square on Stephenson and later moved to the Townhouse on the north side of the square. To honor the long-standing coffee club Reynolds rarely missed, the family will have a visitation at the Townhouse from 5-7 p.m. on Friday, November 4th, 2022. A celebration of life service will be held at First Christian Church on Saturday, November 5th, 2022, at 11 a.m., with private burial to follow at Maplewood Cemetery in Harrison under the direction of Coffman Funeral Home. The family wants to send a special thank you to the staff at Countryside Assisted Living for the awesome care they have provided our parents. In lieu of flowers, the family request donations be made to the Harrison Lions Club Foundation, P.O. Box 1913, Harrison, Ark., 72601 or the Buffalo National River Partners at bnrpartners.org.
Published October 28, 2022
OBITUARY SUBMITTED BY:
Coffman Funeral Home
501 Old Bellefonte Road, P.O. Box 2418, Harrison, AR
E-mail: coffmanfh1@windstream.net
Phone: 870-743-2021