Rhoda Jane McGuire
Fayetteville, AR, 1936 - 2022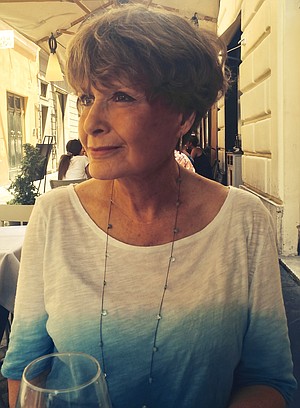 Rhoda Jane McGuire, born in Stillwater, Okla., in 1936, passed away on October 25, 2022. Throughout her long life, Rhoda was a lover of art, music, and most of all her family.
Rhoda graduated from Stillwater High School in 1954 and went on to attend art school at the University of Arizona in Tucson and then Oklahoma State University, where she earned her degree in 1959. She was married to Bill McGuire from 1960 to 1986. Together they lived in St. Louis, Mo.; El Cerrito, Calif.; Woodbury, N.J.; St. Albans, W.Va.; and El Dorado, Ark. Over these years, she worked in retail at Rothchild's Department Store in Oklahoma City and at Sak's Fifth Avenue in St. Louis. Later, she worked as a newspaper fashion illustrator for department stores in El Dorado, Ark.
Rhoda went on to live in Albuquerque, N.M., where she was a member of Yucca Art Gallery in Old Town, which housed her portraits, and a member of the Pastel Society of New Mexico, where she served as secretary for many years. She was commissioned to paint portraits, and she especially loved painting children. When she relocated to Fayetteville, Ark., in 2005 to live near family and grandchildren, she joined the Ozark Pastel Society and Artists of Northwest Arkansas. Her art was recognized in both New Mexico and Arkansas with many awards for her work in pastels.
Rhoda's travels took her throughout the United States, Europe, and Mexico. She attended First Church of Religious Science in New Mexico, Unity Church, and Central United Methodist Church in Fayetteville.
Rhoda's greatest joy came from spending time with her children, grandchildren, family, and friends. She is survived by two daughters, Kimberly Kendrick and her husband Richard of Fayetteville, and Kelly McGuire-Gaddis and her husband Jim of Beverly, Mass.; four grandchildren, Cassidy Powell, Austin McGuire Gantz, Nikki Kendrick, and Kacie Kendrick; and one great-grandson, John Walker Powell, born October 19, 2022. Rhoda is also survived by her sister, Shirley Hoke of Edmond, Okla.; and her brother, Michael Glover of Tucson, Ariz.
Cremation arrangements are under the direction of Moore's Chapel in Fayetteville, Ark. A celebration of life service is planned for Spring 2023.
To place an online tribute, please visit www.bernafuneralhomes.com.
Published October 31, 2022
OBITUARY SUBMITTED BY:
Moore Chapel
206 West Center Street, P.O. Box 1149, Fayetteville, AR
Phone: 479-442-7314