Hazel Roberts Peel
Batesville, AR, 1929 - 2022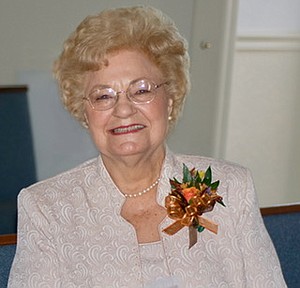 Hazel Roberts Peel, age 93, of Batesville, passed away peacefully on August 29, 2022, in Little Rock. She was born in Batesville on March 1, 1929 to Hershel R. Roberts and Dovie (Sims) Roberts. She was a devoted Christian and a member of West Baptist Church in Batesville, where she was active in the SonShine Sunday School class for many years. She was a proud Batesville Pioneer and attended Draughon School of Business in Little Rock after high school. She worked for several years as a bookkeeper at the International Shoe Factory in Batesville. Most of her adult life, however, was spent as a homemaker, where she excelled at sewing, gardening, crafts, and decorating. She loved living on the farm in Salado for many years, serving as a member of the Salado Extension Homemakers Club. She was also the leader of the Allen Chapel 4-H Club and the Southside Girl Scouts. She loved taking scouts and 4-H'ers on education trips to the State Capitol, to Memphis attractions, and to the county fairs. Her spaghetti dinners and her fried chicken suppers were weekly favorites for her children's friends. In 1989, she married her high school sweetheart, Virgil Peel. They lived in Batesville's College Heights neighborhood for many years, and she spent countless hours visiting with neighbors and tending to her flowers and trees. She and Virgil enjoyed traveling and were blessed to be able to visit Alaska, Hawaii, Yellowstone and Grand Canyon National Parks, and numerous other fun places. They liked entertaining friends at the Batesville Country Club, and she even tried golf for several seasons. She was a modest woman, and few knew that she'd won the State Senior Olympics medal in Ballroom Dancing during the 1980s. In her later years, she lived at Eagle Mountain Assisted Living Center in Batesville and at Fox Ridge Assisted Living Center in Little Rock. In those settings, she rekindled existing relationships, made new friends, and was known as a creative person who enjoyed painting, coloring, and beating everyone at Bible Trivia.
She is survived by her daughter, Rhona Weaver Temple and son-in-law, Bill Temple of Little Rock, her son, Randy Weaver of Salado, one granddaughter, Chelsea Weaver Varnell of Southside, and two great- granddaughters, Laiken Varnell and Landry Varnell of Batesville. Survivors also include Orville and Mary Arms of Charlotte; four nieces: Sherry Holcomb of Denton, Texas, Debbie Stanley of Judsonia, Suzanne Seal of Hughes, and Sue Roberts Griffis of Southside; five nephews: Tony Fleming, Danny Fleming, Sammy Fleming, and Steven Reves, all of Batesville, and Kevin Arms of Charlotte and a host of other relatives and dear friends. She was preceded in death by her parents and her husband of 24 years, Virgil Peel, her brother, Ralph Roberts, sisters-in-law, Mary Roberts and Ann Agee Gates, and sisters, Wretha Mae Reding, Christine Reves, and Charlene Fleming.
Honorary pallbearers are members of her beloved SonShine Sunday School class at West Baptist Church. The funeral service will be held at Roller-Crouch Funeral Home in Batesville at 11 a.m., on Friday, September 2, with the burial following the service at Oaklawn Cemetery. Visitation will be from 10-11 a.m., at the funeral home. Memorials may be made to West Baptist Church, 1100 N. Central Ave., Batesville, Ark., 72501, or to the Independence County Humane Society, #5 Environmental Drive, Batesville, Ark., 72501.
Published September 1, 2022
OBITUARY SUBMITTED BY:
Roller-Crouch Funeral Home
510 College Park, P.O. Box 2576, Batesville, AR
Phone: 870-793-4161
http://www.rollerfuneralhomes.com/