Floyd B. Collins
Springdale, AR, 1944 - 2022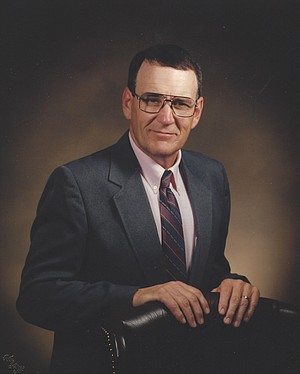 Floyd B. Collins, 78, of Springdale, Ark., went to be with the Lord on August 30, 2022, at the Washington Regional Medical Center in Fayetteville.
Floyd was born on April 23, 1944, in Boston, Ark., one of twelve children. He was the son of William Harrison Collins and Rosie Lee Williams Collins. He married the love of his life, Rosie Lucille Bolinger on September 21, 1966 in Huntsville, Ark., celebrating almost 56 years of marriage. Floyd was a truck driver for Jones Truck Lines from 1964 – 1991. Floyd held various positions over the next twenty-nine years. He worked for the Springdale Water Department, Springdale Hospital, Hayes Incorporated, and Pat Salmon and Sons.
Floyd was a member of Zion Christian Union Church in Fayetteville. He enjoyed many hobbies: hunting, exploring the mountains, singing gospel music, sharing interesting stories, and watching sports. He rarely missed an Arkansas Razorback game.
He was preceded in death by his parents, two brothers: Frank and Walker Collins; three sisters: Billie Marrs, Virginia Schaefer, and Cleo Thurston; and his grandson, Ty Bruton Gamblin.
He is survived by his wife, Lucille, of the home; two daughters: Stephanie Wiles Atchley and husband, Mike, of Eureka Springs, and Melissa Turner and husband, Jackie, of Springdale; two brothers: Ben Collins of Springdale and Dotson Collins of Huntsville; four sisters: Susie Atchley of Fayetteville, Sarah Petersen of Entiat, Wash., Ethel Taylor of Elkins, and Melba Collins of Fayetteville; five grandchildren: Carrie Alice Rose Wiles, Richard Blane Gamblin, Hannah Elizabeth Renae Wiles, Booke Lucille Gamblin and Sarah Emily Carol Wiles; and one great-grandchild, Nikiyah Jhenae; along with many other family members and friends.
Visitation will be held at the Backstrom-Pyeatte Funeral Home in Springdale on Wednesday, September 7, 2022, from 5 p.m. to 8 p.m.
A Celebration of Life will be held at the Backstrom-Pyeatte Funeral Chapel on Thursday, September 8, 2022, at 11 a.m. Burial and committal service will be held at the Huntsville Cemetery in Huntsville, Ark., on Thursday, September 8, 2022, at 2 p.m.
Backstrom-Pyeatte Funeral Home of Springdale has been entrusted with the arrangements. To sign online guestbook please go to: www.backstrom-pyeatte.com.
Published September 4, 2022
OBITUARY SUBMITTED BY:
Backstrom-Pyeatte Funeral Home
2230 North Thompson Street, P.O. Box 6294, Springdale, AR
Phone: 479-756-2010