Mary Jane Huett Hardy
Greenbrier, AR, 1951 - 2022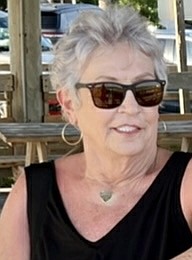 Mary Jane Huett Hardy, age 70, died peacefully on September 2, 2022, surrounded by her loving family. Mary Jane was born December 21, 1951, in McPherson, Kan. She was the eldest of Calvin and Flossie Cato's six children.
Of all the things Mary Jane will be remembered for, the most remarkable was her love of family. No matter the occasion, even a normal Thursday, she would always have a full spread of home cooking, including her famous fudge cake. Mary Jane was also blessed with the gift of words. She could make a rhyme or song about life's most ordinary moments, a handwritten card into a treasured work of art. Mary Jane loved celebrating all the holidays in the biggest way. Of all of them, she derived the greatest happiness from Halloween. She was known to dress up in crazy costumes to pass out candy to the neighborhood children, probably enjoying herself more than the kids. Mary Jane will be forever missed by all who were lucky enough to have had her in their life.
Mary Jane is preceded in death by her parents, Calvin and Flossie Cato; one brother, Darrell Cato; a daughter, Lisa Huett Martin; and a son, Kevin Dean "Dino" Huett. She will be greatly missed by her family and many friends.
She is survived by her adoring husband, Jim Hardy; her son, Chad Huett; daughters by marriage, Jennifer Huett, Amy Huett; and sons by marriage, Casey Martin and Alan Berry; Stephanie Hardy Overton (Ford) and Heather Hardy Kirby (Terry). While her children were one of her greatest joys, nothing could compare to the joy of her nine grandchildren. Mary Jane is survived by seven granddaughters and two grandsons: Courtney Berry, Molly Overton Talbert, Meredith Overton, Susan Overton, Katie Huett, Abbylea Huett, Nicholas Huett, Maggie Jane Huett, and Eric Douglas Huett. Mary Jane also leaves behind three sisters: Kathy Jones (Clayton), Joanie Mahan (Jerry), Polly Miller (Greek); a brother, Jerl Cato (Pam); and many nieces and nephews. She will be greatly missed by her family and many friends.
Visitation is at 1 p.m. Tuesday, September 6, 2022, with funeral service following at 2 p.m. at Roller-McNutt Funeral Home in Conway.
In lieu of flowers, Mary Jane asked that donations be sent to Arkansas Children's Hospital.
Online guestbook: www.rollerfuneralhomes.com/conway.
Published September 4, 2022