Can Thi Cung
Weston Lakes, TX, 1928 - 2022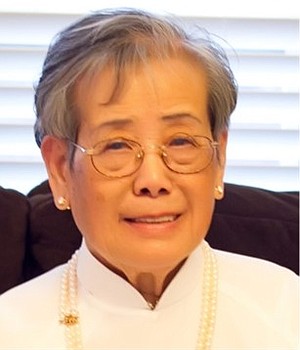 Can Thi Cung, 94, of Weston Lakes, Texas passed away Saturday, September 3, 2022. She was born July 6, 1928, in Ha Noi, Vietnam to Nguyen Xuan Xuyen and Trinh Thi Hoa. She was preceded in death by her husband of 69 years, Nhung Phuc Cung, her two daughters, Thu Ha Cung, Hong Hai Cung, and one grandchild, Son Do.
She is survived by two sisters: Nguyet Destatte (Robert) of Temecula, Calif., Phan Thi Nguyen of Germany; seven children, Niki Cung (Paul Thompson, Jr.) of Greenland, Ark.; Thu-Huyen Sise (Brad) of San Diego, Calif.; Neal Cung (Lisa) of Atlanta, Ga.; Dee Vu (Victor) of Weston Lakes, Texas; Todd Cung (Cinda) of Destin, Fla.; Minh Thomas (Bill McHarg) of Atlanta, Ga.; Thanh Ngo (Danh) of Fort Smith, Ark.; 10 grandchildren, Nathan, Heather, Michael, Adam, Michelle, Chris, Jennifer, Jeffrey, Nhan, Thuy- and six great-grandchildren.
Our Mom and Dad sacrificed everything for their children when they left their home country of Vietnam in 1975 in order for them to have the opportunity for a good education and successful careers. We were never without a roof over our heads, food in our stomachs, and love in our hearts and minds. They instilled in us that Family is always first, a close second being Food! Regardless of the time of day that their children showed up to visit, the first thing we were obligated to do was eat and while we were eating, they were busy planning the next meal.
Well into their later years, Mom and Dad were fortunate to travel the world with their kids or to visit them in their home cities. Despite our best efforts, our own cooking never quite reached Mom's exacting standards. She would say, "if I gave you too many compliments, you won't try as hard next time."
Prior to Weston Lakes, Mom resided in Zumbrota, Minn., for three years, Barling, Ark., for 40 years, and Fayetteville, Ark., for five years. Mom was one of the strongest and most determined women on earth. We dearly love and miss you.
Visitation will be held on Friday, September 9, from 9: a.m.-3 p.m. at Sugar Land Mortuary located at 1818 Eldridge, Sugar Land, Texas 77478 (281) 277-1818.
Published September 9, 2022