Choyia Margarette Williams Smith
Berryville, AR, 1930 - 2022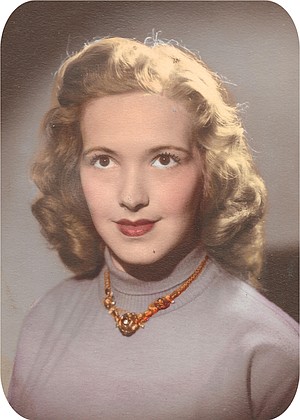 Choyia Margarette Smith, of Berryville, Ark., October 16, 1930 – September 7, 2022, of Scottish Irish Cherokee, Choctaw, and German heritage, born in Newport, Ark., to Tead and Irene Williams. Tead was a sharecropper back then so they moved often. She went to school in Hillemann. She married R.H. Mauldin, and she had their son, Danny, in Anchorage, Alaska, in 1949. They divorced in 1956, and she married again, twice before meeting Albert J. Smith in 1963, as a young AF Captain at Hernando's Hideaway in Memphis. He noticed her when she came through the door because of her bearing. She married him and for the next year and a half, she lived with him on Guam at Andersen AFB. They came back to California when he was stationed at Beale AFB. While on Guam, she got to visit Japan, Hong Kong, the Philippines, Taiwan, and when he was at Da Nang, they got to visit in Thailand. And she visited with her son, Danny, in Hawaii. When he came back from his tour, they traveled to Mexico in their brand new 1800 E Volvo. She traveled all over the country, most of the time in that car. He retired after 32 years of service in 1974 as a Lt. Colonel in Omaha, and they retired to near Berryville, Ark., and began building their home. And then they built another very large home. He passed on at age 71, 25 years ago, and she has been alone since then. But, always independent and strong willed, she persevered.
She loved bowling up until her shoulder began giving her problems and was in several leagues around the country and a member of the "300 club". She did a radio commercial in Mobile, Ala., once and was a nighttime DJ until the other DJ made at pass at her.
She owned her own businesses in Memphis, Tenn., and Kimberling, Mo. She earned her Private Pilot license in Omaha, Neb., and was a member of the Experimental Aircraft Association. She was a dance instructor for Arthur Murray studios in Memphis, and also a PBX operator there.
She was always reading and learning, taught herself how to use the computer and did well with it, and always a great cook. She loved to drive often, making trips of Florida, always by herself. 19 years ago, a black and white cat came to her and she named it PK, for pretty kitty. That cat was loyal to her all the way, and she was her companion. She visited with her every week these past months while she was in the nursing home. The cat's eyes were pure love when she visited with her.
She was preceded in death by her father, Tead; and her mother, Irene; her sister, Hazel Ferrell; her sister, Loretta Lagasse; and her brother, TC Williams. She leaves behind a brother, Cliff (Bitty); and Jan Williams of Ward; a son, Danny Mauldin of McCrory; a granddaughter, Bethany Penny; and William; great-grandson, Ethan, and great-granddaughter, Haley Penny, of Chandler, Texas; many nieces and nephews, and her beloved, PK. She loved animals and loved to garden and travel. And she loved her family.
She said, "if you live long enough, you get old, and getting old wasn't for sissies". She touched many people's lives, inspired by determination and strength of will. She earned her way all the way through this life.
Those honored to serve as pallbearers will be Manford Ferrell, Kevin Smith, Chase Williams, Gary Williams, Shane Williams, and Teddy Williams. Honorary pallbearers will be Larry Ferrell, Ludek Katzer, William Penny, Bill Perry, Bitty Williams, Homer Williams, Michael Williams, and Toby Williams.
Funeral services will be held at 2 p.m. on Sunday, September 11, at the Thompson-Wilson McCrory Funeral Home. Interment will follow in Sand Hill Cemetery near Auvergne, Ark.
Friends may visit at the funeral home beginning at 1 p.m. until service time.
Memorials may be made out to the Sand Hill Cemetery Association, 102 Jackson 1211, Newport, Ark., 72112.
Published September 11, 2022
OBITUARY SUBMITTED BY:
Thompson-Wilson Funeral Home/ c/o Jacksons Funeral Home
2642 HWY 64 W., Wynne, AR
E-mail: twfhome@gmail.com
Phone: 870-523-5822
http://www.thompsonwilsonfh.com/