Delbert Jackson Fambrough
of Little Rock, AR, 1941 - 2022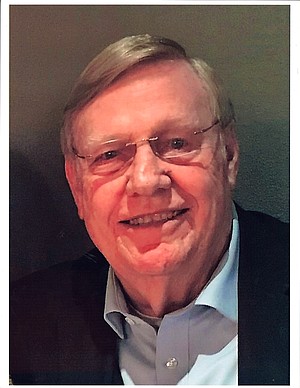 DELBERT JACKSON FAMBROUGH of Little Rock, Ark., passed away on Friday, September 9, 2022, at the age of 81. Delbert was born September 9, 1941, in Smackover, Ark., the son of Delton and Selma (Hunt) Fambrough. The family relocated to Springhill, La., and there Delbert graduated from high school. He played the trumpet in the band in high school and in college. He excelled in all sports especially track and football. He was the 1960, Louisiana State High Jump Champion and selected as an All-State athlete.
Delbert attended Northwestern State University on an athletic scholarship until an injury ended his football career. He then enlisted in the Army and began his military career. He soon entered Officers Candidate School and was commissioned as an Officer. On July 17, 1964, he married his college sweetheart, Catherine Sue Mischler. Together they endured the separation of war, raised two sons, enjoyed successful careers and spent much time on Lake DeGray until Cathy's death on August 16, 2002.
Delbert was a true patriot. He served proudly as an infantry officer in the United States Army. He served two tours of duty as an advisor to the Vietnam Forces. During his military career he was an airborne Ranger and highly decorated veteran earning a Bronze Star, Purple Heart, Army Commendation Metal and Combat Infantry Badge. He attended the Defense Language Institute and Special Forces Warfare School.
In 1971, after surviving an explosion of his military vehicle, he received a medical discharge having earned the rank of Major in his 10 years of service. This was a disappointing turn of events as his intention was to be a career officer.
Delbert returned to college and graduated from Austin Pea State University. He pursued a second career with the Department of Veterans Affairs where he continued his commitment to his fellow brothers-in-arms.
His first position was to oversee students who were veterans attending college on the Gl Bill. Later he was promoted to the Regional Office of the VA in Little Rock, as a Field Attorney whose job it was to manage incompetent veteran's financial affairs and insure their welfare. In 1985, he assumed the position of Chief of Guardianship Services until his retirement in 1997.
Delbert was a faithful member of St. James United Methodist Church and an active member of the Forum Sunday School Class. It was there that he was reacquainted with Benni Ogden whom he had first known at Northwestern State University in 1961. With Benni he found a new love and a renewed enthusiasm for life. They were married November 22, 2003.
Delbert enjoyed fishing, spending time with family, traveling in the states and abroad. In later years one of the highlights of his week was the gathering of his "lunch group", sharing their views on sports and current events. He will be remembered fondly for the annual trips he planned for Benni's Mah Jong group. The couples traveled to Colorado, Gulf Shores, North Carolina and the Canadian Rocky Mountaineer train trip.
Delbert will be remembered for his ready smile, his Christian faith, and kind heart. He maintained many friendships from different walks of life. If he was your friend, he was loyal to the end.
He is survived by his wife, Benni Fambrough; two sons, David Fambrough (Nancy) of Plano, Texas and Gary Fambrough (Angie) of Conway, Ark., and his brother, Dr. Larry Fambrough (Cynthia) of Ponchatoula, La.
Benni's daughters, Ashley Fletcher (Dr. James) of Jonesboro, Ark.; April Wilkinson (Rev. Donnie) of Baton Rouge, La. Together they bring eight grandchildren to the family and two great-grandchildren.
Memorial Service will be held Friday, September 16, 2022, at 2 p.m., at Saint James United Methodist Church, 321 Pleasant Valley Drive, Little Rock, Ark.
In lieu of flowers, memorials may be made to St. James United Methodist Church.
To sign the online guest book, please visit, www.rollerfuneralhomes.com/chenal.
Published September 11, 2022
OBITUARY SUBMITTED BY:
Roller-Chenal Funeral Home
13801 Chenal Parkway, Little Rock, AR
Phone: 501-224-8300
http://www.rollerfuneralhomes.com/chenal