Gene Engle
Rogers, AR, 1946 - 2022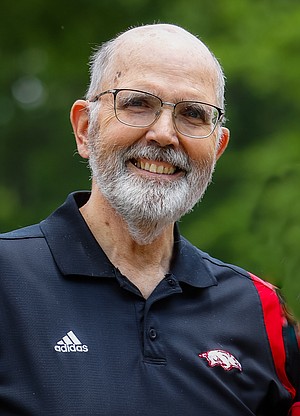 Gene Engle, age 75, of Rogers, Ark., passed away Friday, September 9, 2022, at Mercy Medical Center. He was born October 5, 1946, in Britton, S.D., to Arthur and Dolores (Swan) Engle.
He graduated from the University of Nebraska-Lincoln with a Bachelor's degree in Civil Engineering. He was licensed as a Professional Engineer (PE) while employed for approximately 30 years with Vulcraft in Norfolk, Neb.
Upon retirement, Gene moved to Rogers for its world-class fishing and especially enjoyed fishing for stripers. He was an active member of the Northwest Arkansas Striper Association.
When he wasn't fishing, he was reading the latest thriller/spy novel, or cheering for his beloved St. Louis Cardinals baseball team. He also fully embraced the "Woo Pig Sooie" chant while cheering on the Arkansas Razorbacks.
Gene was an active member of First Baptist Rogers, was involved with its Life Group and loved volunteering in many different areas around the church. He was also a proud member of the Saints Alive Choir.
He loved spending quality time with his family and friends. He also loved his cat, Baxter and dog, Buster. They loved him too because they knew a morsel or two would come their way when Gene was at the dinner table—especially getting to lick the ice cream bowl!
Gene is survived by: his wife, ML Engle, of Rogers, whom he married June 30, 1991; one daughter, Julie Pack and her husband Paul, of Lexington, Neb.; one son, Joel Engle and his wife Alisha, of Kansas City, Mo.; two grandchildren, Kaelyn Hooper and her husband Edwin, of Seattle, Wash., and Connor Pack, of Omaha, Neb.; one great-grandson, Elias Hooper, of Seattle, Wash.; two younger sisters, Diana Hutton and her husband Dean, of Dix, Neb., and Claudia Forshey and her husband Ray, of Boise, Idaho; mother of his two children, Janet McNeel and her husband Larry, of Lincoln, Neb.; and numerous friends and extended family members.
He was preceded in death by his parents; one sister, Cheryl Sue Detour and her husband, Dick; and brother-in-law, Dan Burgener.
A memorial visitation will be Monday, September 12, 2022, from 9-10 a.m., at First Baptist Rogers, with a celebration of Gene's life officiated by Pastor Wes George immediately following.
Arrangements by Epting Funeral Home Bentonville. Condolences: www.eptingfuneralhome.webs.com.
Published September 11, 2022