Roger Anthony Snyder
of Little Rock, AR, 1955 - 2022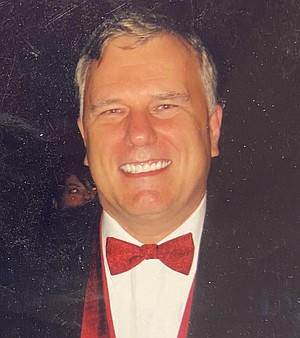 Surrounded by his family, ROGER ANTHONY SNYDER passed away Friday, September 9, 2022, following a brief illness. Roger is survived by his wife of 35 years, Lori James Snyder; and their children, James "Bo" Wesley Emmet, Matthew "Matt" MacMillan Snyder (Emile,), Meeghan "Mia" Claire Snyder; and two grandchildren: Olive Winters Emmet and Thomas Oliver Snyder.
Roger was born to Bema and Alva Snyder on September 27, 1955, in Little Rock, Ark., with a story to tell and a song to play. He graduated from Central High School in 1973 before continuing his education at the University of Arkansas at Little Rock (1973-1978), and Memphis State Herff College of Engineering (1978-1979), where he completed degrees in thermodynamics, industrial and mechanical engineering, and statistics.
Roger began his career in 1982, working at A G Edwards and Son as a stockbroker and then soon moved to an investment banking position at EF Hutton/Drexel Burnham Lambert (1982-1987). In 1987, he moved to Memphis to work as a VP Senior Trader at Thomson McKinnon Securities, followed by a brief stent at Louis Dreyfus Commodities as a Senior Trader. His last corporate position was held at Allenberg Cotton as a trader before he ventured off to pursue his own interests. An entrepreneur to his core, Roger moved back to Little Rock in 1991, where he spent the remainder of his professional life contributing to the telecommunication industry and establishing his own companies: InteLex, Signet 6, and IoT4Net, Inc. Roger grew his companies from the ground up, starting with scrubbing old telephones with toothbrushes and eventually growing his first business, InteLex, to a $20 million a year business in a five-year period between 1991 and 1996. Over his professional career, Roger's various entrepreneurial ventures lead to partnerships with General Dynamics, the United States Military, various United States Government Agencies, as well as numerous fortune 500 companies. Over the years, Roger's experience and expertise has proven to be a valuable asset in his advisory roles for major manufacturers, universities and professional organizations including International Engineering Consortium, the University of Arkansas, and Ericsson Business Systems.
While Roger's intensity and dedication took him far in his career and professional life, his love for music was an undeniable thread throughout his life. His fame in the musical industry came early when, in 1973, he and his band, Planet, opened for STYX at Little Rock's Barton Coliseum to a sold-out crowd. Roger was a guitarist and all-around musician known by many as "BB Gun." In his past time, he played in numerous central Arkansas bands, including Max and the Blue Cats, the Paperboys, the Arkansas Blues Connection Band, and Dummy and the Other Guy. Roger was also a long-time and well-loved member of the Port City Blues Society. Roger made many fans and life-long friends through his connection with music. He was always most himself with a guitar in hand.
A rockstar in his musical endeavors, professional life, and most importantly to his family, Roger was a legend. He was never afraid of a dance floor, and the life of the party anytime the band started playing. Roger loved his family intensely and in everything he did there was an underlying theme of leaving a legacy for his family. He was genuinely dedicated to everything for which his children expressed interest and was always looking forward to a Branson road trip. A multifaceted man, his inspirations in life spanned from Thomas Edison to Stevie Ray Vaughn. Roger's "political" endeavors included his position as the founding and sole member of the KEG (Keeping Effectiveness in Government) Party, where he was actively recruiting members to his last days. He was quick witted, had an easy and infectious smile, and always had a story to tell. He will be dearly missed by his family and many friends.
The family wants to thank the doctors and staff at St. Vincent Memorial Hospital for their tender care of Roger.
A visitation and celebration of Roger's life will be held on Monday, September 12, at Ruebel Funeral Home from 5 to 7 in the evening. A memorial service will be held at Second Presbyterian Church (600 Pleasant Valley Drive, Little Rock, Ark. 72227) on Tuesday, September 13, at 2 in the afternoon, with a reception to follow. Services will be conducted by Reverend Alisha Secrest of Second Presbyterian Church and Reverend Jay Bruno, a dear friend and fellow musician with Roger. Roger's ashes will be taken to one of the family's favorite retreats along the shores in Ely, Minn.
In lieu of flowers, memorials can be made to an organization of choice. Arrangements are under the direction of RuebelFuneralHome.
Published September 11, 2022
OBITUARY SUBMITTED BY:
Ruebel Funeral Home
6313 West Markham Street, Little Rock, AR
Phone: 501-666-0123
http://www.ruebelfuneralhome.com