Tennie Ellene (Taylor) Russell
Bentonville, AR, 1924 - 2022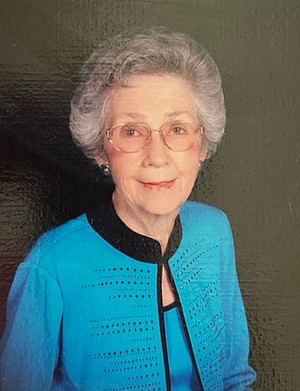 Tennie Ellene (Taylor) Russell passed away peacefully, on Friday, September 10, 2022. All three children were shortly able to be by her side. Tennie was preceded in death by her parents, husband, and two sisters, Alma Taylor Bartlett and infant sister, Wilda.
Tennie was born July 12, 1924, in Iceledo, Ark., (Newton Co.) to Rufus and Carolyn Tenison Taylor. She attended grades one-eight in a one room schoolhouse, taught by her sister, Alma. She then attended ninth grade in Bellefonte, Ark., and from there, moved to Bentonville to live with her uncle and aunt in order to complete grades 10-12 at Bentonville High School. Tennie was a BHS Cheerleader her junior year & a majorette her senior year. It was during her Senior year she met her future husband, Robert Earl Russell, who had been furloughed, awaiting assignment into the WWII Air Corp. She graduated from Bentonville High School in 1942 in the top five of her class of 55 students.
Upon graduation, Tennie moved to Yuma, Ariz., due to WWII, where she worked for the civil service, in an army hospital. After approximately three years in Yuma, she moved to Russellville, Ark., to marry Robert, who was attending Arkansas Tech University at the time. They were married Feb. 9, 1946, and moved back to Bentonville, in 1947, where they remained married for 38 years. She was a member of First Baptist Church since 1950 & taught various Sunday School classes for the next 60 years.
Eventually, at the prompting of her husband, Tennie attended the University of Arkansas and received her Bachelor of Science in Education in 1962 and her Masters of Science in Education in 1974. Tennie began & ended her career at Thomas Jefferson Elementary where she taught third and fifth grades and was also a Reading Specialist. She was Thomas Jefferson's Principal 1983-84 and completed her tenure as an assistant principal. Tennie was invited to join the Delta Kappa Gamma Teacher's Society and remained an active member through the years. She retired From the Bentonville Public School System in 1990. Her education career spanned almost 30 years. She continued to volunteer in various capacities in the school system, one of which was working one on one with students needing additional help. Because of this dedication and devotion, the Early Childhood Center was re-named the Tennie Russell Primary school May 2012.
Tennie loved football, especially her two favorite teams, the Bentonville Tigers and the Arkansas Razorbacks. She was a permanent fixture on Friday nights in the Hutch Box at Old Tiger Stadium and attended almost every Hog football game since the early 60's, up until 2010, which meant she was 86 years old!
She is survived by her three children, Vella Russell Lewis and husband, Robert, James Taylor (Jimmy) Russell, and Carolyn Russell Larimer, all of Bentonville. Tennie is also survived by three grandsons and four great-grandchildren: Bryan Lewis and wife Erika, whose children are Arden and Mac, Kyle Larimer, and Christian Larimer and wife, Jazmin, whose children are Layla and Harper.
Visitation will be Thursday, September 15, from 5-7 p.m. at First Baptist Church, 200 S.W. A St., Bentonville, Ark.
Funeral service will be Friday, September 16, 10 a.m. at First Baptist Church, 200 SW A St, Bentonville, Ark. Burial will immediately follow at Bentonville Cemetery.
In lieu of flowers, memorials may be made to: Bentonville School Foundation, 500 Tiger Blvd., Bentonville AR 72712; Tennie Russell Primary School, 1110 Bella Vista Rd., Bentonville AR 72712; Single Parent Scholarship Fund of NWA, 2601 S.W. D St., Bentonville AR 72712; Eagle Family Ministries, PO Box 488, Bentonville AR 72712.
To leave an online condolence please visit www.bernafuneralhomes.com.
Published September 12, 2022