Sammy Edward Chandler
Greers Ferry, AR, 1947 - 2022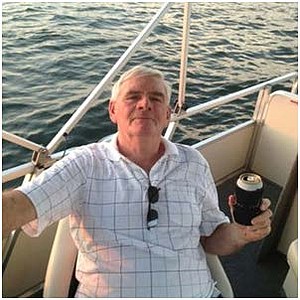 Sammy Edward Chandler, of Greers Ferry, Ark., sadly passed away on September 18, 2022. He was 75 years old. Sam had a passion for boats from an early age, buying his first boat, an old Chris Craft, at age 20, and refurbishing it. This was the first among many speed boats and pontoon boats that he owned over his lifetime. Sam was an avid member of the Teamsters Union since 1966 and most recently retired from ABF after 21 years of service where he received multiple safety awards. In retirement he moved to Greers Ferry Lake to be near the water and to enjoy his love for boating. He particularly enjoyed being with his family at the lake and taking his children and grandchildren for a ride on his boat. He was also a long-time member of the Mason's, having been initiated in June of 1997. He occupied all stations in his local lodge Beebe 145, where he became a 32-degree Mason in the Scottish Rite and Worshipful Master of his Blue Lodge in 2010.
Sam was born in the home of Tom and Beulah Mathers in Pollard, Arkansas to Edward and Maxine Chandler who preceded him in death. He is survived by his three brothers: Tom (Sarah) Chandler of Cabot, Ark.; Jim (Janice) Chandler of Pollard, Ark.; and Tim Chandler of Cabot, Ark.; three children: Kelley (Dave) Barker of Austin, Texas; Jeffrey (Melissa) Chandler of Austin, Texas; and Joe Chandler of Cabot, Ark.; six grandchildren: Heather Hirsch (John) Marines, Lacey Hirsch (Bradley) Bisbee, James Barker, Abigail Chandler, Jonah Chandler, and Megan Chandler; five great-grandchildren, Zachery Sherwood, Emily Sherwood, Daxton Marines, Adalee Marines, and Rella Bisbee.
A viewing with a Masonic Service will be held Thursday, September 22, 2022, from 1 to 3 p.m., at the United Methodist Church, 2003 South Pine Street, Cabot, Arkansas, 72023. A Graveside Service will follow on Saturday, September 24, 2022, at 1 p.m., at New Hope Baptist Cemetery, 7600 Highway 62, Pollard, Arkansas, 72456. Pallbearers: Chris Chandler, David Chandler, Jeff Chandler, Matt Chandler, Ryan Pierson, Michael Pridmore. Honorary Pallbearers: Tom Chandler, Jim Chandler, Tim Chandler, James Barker, and Jonah Chandler.
Published September 22, 2022
OBITUARY SUBMITTED BY:
Hoggard & Sons Funeral Home
142 North 3rd Avenue, P.O. Box 415, Piggott, AR
Phone: 870-598-3469
http://www.hoggardfuneralhome.com