Tom Danaher
Norman, OK, 1957 - 2022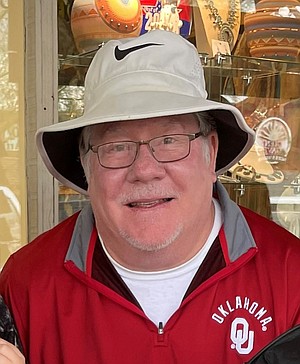 Thomas Anthony Danaher, 65, of Norman, Okla., passed away on September 24, 2022.Tom was born in Pine Bluff, Ark., on January 28, 1957 to Madeline and James Danaher. Growing up in Wichita Falls, Texas, he was an alumni of Notre Dame High School. He married his wife Kelly in Las Vegas, Nev., on September 28, 1996.
Tom was a lifelong Sooner fan and worked at Dolese Bros. Co. for 36 years, earning the title "Mr. Safety". Known affectionately by his kids as "Mr. Fix-It", he was always quick to fix something himself in lieu of calling the professionals. He was also known as "Mr. Manners", quick to pull out his etiquette book when the kids and grandkids strayed from polite norms. One of his proudest achievements as "Papaw" was being awarded the 2019 Oklahoma State PTA Volunteer of the Year award for his dedicated work as "Watch Dog" at his granddaughters' elementary school.
Tom is preceded in death by his mother, father, and brother Pat.
Tom is survived by his wife of 26 years Kelly; children Elizabeth Berger (Adam) and John Danaher (Trevor); daughters Melanie McCollum (Nick), Lacey Archuleta (Rob), and Kelsey Schmidt (Tyler); siblings Jim Danaher, BJ Danaher, Madeline Danaher, and Mary Castle; and grandkids Grace, Anna, Kaylie, Rylie, Jadyn, Beckett, Kreed, and Brodie.
A celebration of life for Tom will be held Monday, October 3, 2022 from 10 a.m.-noon at Primrose Funeral Service, 1109 North Porter Ave, Norman, Okla., 73071.
Fond memories and expressions of sympathy may be shared at www.primrosefuneralservice.com for the Danaher family.
Published September 29, 2022