Donald Jerome Burrough
Hot Springs, AR, 1932 - 2023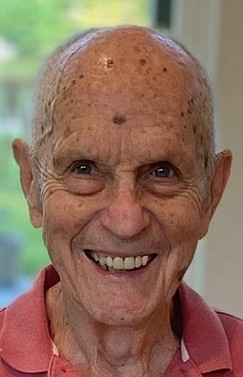 Dr. Donald Jerome Burrough passed on peacefully to his Heavenly home on January 21, 2023. Don was born in Hot Springs, Ark., on June 5, 1932. Don was a loving son, brother, husband, father, uncle, grandfather and great-grandfather to his large family.
The oldest of seven children, Don was born during the Great Depression and raised during World War II. He would collect scrap rubber on the roadside to make a little money for candy. He was also happy when his grandmother asked him to walk to the country store to buy her some snuff, because she gave him an extra penny or two to get himself some candy.
He attended Lakeside School all 12 years, was president of the FFA, and voted most handsome by his classmates. He went to college at Southern Arkansas University, before going to veterinary school at Kansas State University. At SAU, he lived in the dairy barn, fed the animals at daybreak, and hitchhiked back and forth to Hot Springs as he didn't have a car.
Don also volunteered for the U.S. Army and served in the Medical Corps. He volunteered because he knew he would get drafted and wanted to choose the medical field to better prepare for vet school.
Upon leaving the Army, he was accepted to KSU, graduating in 1961. During this time he married his forever sweetheart, Belva Jones, whom he met on a blind date. He had various jobs to help pay for his education, including working at the college lab, selling earthworms, painting, and delivering newspapers.
Don and Belva returned to Hot Springs to raise their family and begin his professional career. He spent the first 17 years of his practice at Harrod, Burrough and Callicott before opening his own practice, The Pet Clinic, in 1978, until his retirement.
Don was a lifetime member of the American and Arkansas Veterinary Associations, served for 15 years on the Lakeside School Board, several years on the Hot Springs Civil Service Commission, President of the Kiwanis Club, founding member and Elder of Grace Bible Church, and on the Board of Directors of Glenhaven Youth Ranch. He was a member of the Garland County Master Gardeners, and a Track Veterinarian at Oaklawn Race Park for many years.
He enjoyed fishing on the local lakes, gardening, hunting, bird watching, building bird houses, reading, and working outside on a never-ending list of projects around the house.
Later in life, his greatest joy was laughing and playing with his cherished grandchildren.
He was preceded in death by his parents, Jerome and Obera Burrough; his brother, Jack Burrough; and sisters, Martha Glidewell and Carolyn Gillham.
Survivors include his wife of nearly 65 years, Belva Jones Burrough; his children, Brian Burrough, Dana Tuggle (Dennis), Cheryl Burrough, and Steven Burrough; his grandchildren, Courtney Gatlin (Seath), Grant Tuggle (Matti), Taylor Baker (Austin), Spencer Tuggle, Sam Burrough, Sophia Burrough, and Jesse Burrough; great-grandchildren, Isla Jane Gatlin and Haze Baker; his brothers, Bill Burrough and Joel Burrough (Becky); and sister, Beth Kirkman; and numerous nieces and nephews.
The family would like to thank Dr. Featherston, the nurses and caregivers at Dierksen Hospice, Fortress Living Care Home, and Calva Smith, caregiver.
In lieu of flowers, donations can be made to The Caring Place or Grace Bible Church in Hot Springs.
A memorial service will be held Friday, January 27, 2023, at 11:00 at Grace Bible Church, 1831 Amity Rd., Hot Springs, 71913 with Pastors Jim Myers and Mark Goad officiating. A visitation will follow after the service.
Online condolences at www.caruth-hale.com.
Published January 25, 2023
OBITUARY SUBMITTED BY:
Caruth-Hale Funeral Home
155 Section Line Road, Hot Springs, AR
Phone: 501-525-0055
http://www.caruth-hale.com