Freda McKissic Bush
Jackson, MS, 1947 - 2023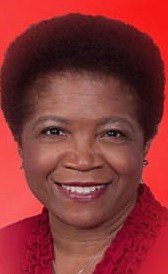 Dr. Freda McKissic Bush, M.D., a native of Arkansas, was involved in women's health for 50 years. She graduated from the University of Arkansas School of Nursing and practiced as a nurse. Later, she graduated from Columbia University and became a nurse-midwife. Freda went on to graduate from the University of Mississippi Medical School and in 1987 completed her residency training at the University of Tennessee in Memphis.
She was a practicing OB-GYN in Jackson, Miss., from 1987 until her retirement in February 2017. She was also a Clinical Instructor in the Department of OB-GYN and Department of Family Medicine at the University of Mississippi Medical Center. She was a partner in private practice with East Lakeland OB-GYN and Associates in Jackson, Miss., a Fellow of the American College OB-GYN, and a Board Member of the American Association of Pro-life OB-GYN. Dr. Bush served on the Mississippi State Board of Medical Licensure from 1996-2006, including a term as president from 2000-2002.
Later, Dr. Bush assumed the position of chair of the Federation of State Medical Boards' (FSMB) Board of Directors in 2010. The national FSMB, a not-for-profit organization, represents the 70 state medical and osteopathic boards in the United States to promote excellence in medical practice. In February 2012, she became President/CEO of the Medical Institute for Sexual Health. Freda co-authored with Joe S. McIlhaney, MD two books, HOOKED, New Science on How Casual Sex is Affecting Our Children, and the last book released in January 2012, Girls Uncovered, New Research on What America's Sexual Culture Does to Young Women. She was a Member of the Mississippi Governor's Blue Ribbon Task Force on Teen Pregnancy Prevention and served as Chair of the Medical Advisory Subcommittee.
Dr. Bush served as a Presidential appointee to the Presidential Advisory Council on HIV/AIDS (PACHA) from 2006-2009. She was a contributing writer to Faith Matters: How African American Faith Communities Can Help Prevent Teen Pregnancy published by the National Campaign to Prevent Teen Pregnancy.
Dr. Bush was a member of the Physician's Resource Council for Focus on the Family. She also served as a medical advisor for Heartbeat International and CareNet and served as Medical Director for the Center for Pregnancy Choices, Metro Jackson. During her vast career, much of her time was spent speaking on sexual health, sexually transmitted diseases, and social behavior education. She presented seminars for health professionals, educators, parents, and youth in several cities and states; co-sponsoring a conference in Jackson, Miss., for seven years.
Dr. Bush was interviewed on several TV programs as well as numerous radio programs including Focus on the Family and Family Life Today with Dr. James Dobson, Focus on the Family with Dr. Jim Daly, and Family Life Today with Dennis Rainey. She published articles in the Journal of Medical Regulation, The Mississippi State Medical Association Journal, Christianity Today, Charisma Magazine, and Christian Living Metro Jackson. Dr. Bush was a proud resident of Jackson, Miss., and gave back to her community of West Jackson and to others. Her faith and light shone brightly and touched everyone she encountered.
Dr. Bush was also a dedicated member of New Horizon Church International in Jackson, Miss.
She leaves to cherish her memory and legacy, her devoted husband of fifty-three years, Lee R. Bush, Sr. as well as their four children, Freda Clarrette Gray of Charlotte, N.C., Lea Rosel (David) Hall of Jacksonville, Fla., Jocelyn Bush (Matthew) Watkins of San Diego, Calif., and Lee Rodgers Bush, II of Jackson, Miss.; four brothers, Thirland (Helen) McKissic of Pine Bluff, Ark., Ray E. McKissic of Washington, D.C, Gene Ellis McKissic of Pine Bluff, Ark., Wm. Dwight (Vera) McKissic of Arlington, Texas; one sister Waynetta McKissic (Dwight) Washington of Woodbridge, Va.; son-in-law, Preston Gray of Charlotte, N.C.; two sisters-in-law, Gloria McKissic of Pine Bluff, Ark., and Brenda J. Morrow of Milwaukee, Wis.; godsister, Machelle (Jeffrey) Kearney of Pine Bluff, Ark.; 12 grandchildren; and three great-grandchildren; and a host of nieces and nephews.
Freda was preceded in death by her two brothers, Bobby C. Morrow of Milwaukee, Wis., and Jimmy E. McKissic of Cannes, France, and all over the world; two sisters, Jocelyn McKissic Byrd of Kansas City, Mo., and Barbara Rose McKissic of East St. Louis, Illinois.
A scholarship has been established at the University of Arkansas for Medical Sciences (UAMS) School of Nursing, Little Rock, Ark. In lieu of flowers, please send donations to the Dr. Freda McKissic Bush Scholarship.
Family and friends hour will be held on Thursday January 26, 2023, 5-7 p.m., New Horizon Church International, 1770 Ellis Ave. Jackson, Miss. 39204.
Memorial services will be held on Friday January 27, 2023, 11 a.m., New Horizon Church International, 1770 Ellis Ave. Jackson, Miss. 39204.
Published January 26, 2023