Fred Joe Baker
Bella Vista, AR, 1928 - 2023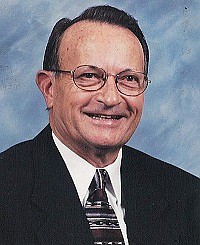 Rev. Fred Joe Baker, 94, peacefully departed this life on Saturday, May 13, 2023, at his home in Bella Vista, Ark. Joe, the name he preferred and went by, was born on December 2, 1928, in Broken Arrow, Okla., to Ted R. Baker and Maxine Smittle Baker.
Joe married Lois Cleveland on December 13, 1947. They lived in Tulsa, Okla. where two daughters were born, Sandra Baker Womack and Vicki Baker Pomykala.
Joe worked as an accountant for 15 years in Tulsa. He then moved to Fort Worth, Texas where he graduated from Southwestern Baptist Theological Seminary in Theology. Joe's commitment to his Lord and Savior is reflected by his favorite Bible verses, Psalm 37:4-5, "Delight yourself in the Lord and He shall give you the desires of your heart. Commit your ways to the Lord, Trust also in Him, and He shall bring it to pass." Joe was appointed a Home Missionary through the Southern Baptist Home Mission Board where he planted and pastored churches and served as Director of Missions for 33 years in Illinois and Ohio. Many lives were changed and 34 people surrendered to full time Christian service during his ministry. Joe and Lois retired in 1993 and moved to Bella Vista, Ark. in 1995. They joined the Bella Vista Baptist Church where Joe served as interim Associate Pastor and helped start Village Baptist Church. Joe preached revivals in 29 states and saw many confess their faith in Jesus Christ as Lord and Savior.
Joe was an avid fisherman. He had many trophy catches, pictures, and stories he enjoyed. Joe and Lois enjoyed golf. Joe had a daily "things to do list" and #1 on the list was, "hey, Babe, let's have some fun today." He wrote a love letter to Lois each month for 50 years. He was a very creative writer. He loved his family and friends dearly. Now he is waiting for them to join him so they can pick up where they left off and have some more fun.
He was preceded in death by his parents; sister, Nell Margaret Rowland of Austin, Texas; and brother, Ralph Baker of Dallas, Texas.
He is survived by his wife, Lois Baker; daughters, Sandra Baker Womack (Bob) of Kingman, Ariz., and Vicki Baker Pomykala (Mike) of Bella Vista, Ark.; granddaughter, Leslie Pomykala Peetani (Sharan); great-granddaughter, Divyanka Peetani; great-grandson, Abhyant Peetani; brother, Gary Baker (Karen); and numerous nieces, nephews, and relatives.
A private graveside service was held for immediate family. A celebration of life service will be held at 11 a.m. on Saturday, June 3, 2023, at Bella Vista Baptist Church, 50 East Lancashire Blvd., Bella Vista, Ark. 72714.
In lieu of flowers, donations in Joe's name may be sent to North American Mission Board, P. O. Box 116543, Atlanta, Ga. 30368-6543 (AAEO on memo line).
The family gives special thanks to Circle of Life Hospice for their end-of-life care.
Arrangements are under the direction of Bella Vista Funeral Home & Crematory. On-line condolences may be made at www.funeralmation.com.
Published May 26, 2023
OBITUARY SUBMITTED BY:
Bella Vista Funeral Home & Crematory
2258 Forest Hills Blvd., Bella Vista, AR
E-mail: charolettepruitt@funeralmation.com
Phone: 479-855-1611