James Lynn Hobson
Marietta, GA, 1942 - 2023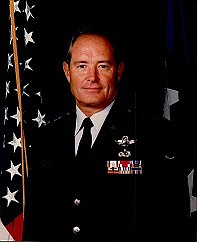 James L. Hobson, Jr., USAF Major General, Ret, passed on May 17, 2023. He was born in July, 1942, in Memphis, Tenn., the oldest son of Major J. Lynn Hobson and Beverly Hobson. He graduated high school in Montgomery, Ala., and earned his BS in biology at Memphis State University where he met his wife of 58 years, Diane Jetton. He is survived by Diane, their two daughters, Carey Hobson Kelly of Marietta, Ga., and Shannon Hobson and husband, Malcolm M. Swan, of Destin, Fla., two grandchildren, Ryan Kelly and Lauren Kelly, and his brothers Lee Hobson and Jon Hobson.
Jim joined the Air Force in 1965 and served his country with love and honor for 32 years. He earned his pilot wings in 1966, flying the C-130. From 1967-68 he flew the MC-130 Talon out of Nha Trang, Vietnam. In 1983, while serving as the 8th SOS Commander, then Lt Col Hobson, was the lead aircraft supporting the airdrop in URGENT FURY (Grenada). For this mission, he and his crew were awarded the Mackay Trophy as the USAF's most meritorious flight of the year. The Mackay is on display at the Smithsonian Air and Space Museum in Washington, DC.
Jim was an exceptional leader and commanded at the Squadron, Wing, Division, and Major Command levels. He was instrumental in the success of U.S. and Coalition efforts supporting Operation DESERT SHIELD, DESERT STORM and PROVIDE COMFORT as the 322nd Commander. From 1994 through his military retirement in 1997 Jim served as the Commander of the Air Force Special Operations Command.
Over his flying career, Jim accumulated 6,500 flying hours in fixed wing and rotary wing aircraft, earning two Distinguished Flying Crosses and four Air Medals. In addition to his flying awards, he earned
multiple high-level awards to include the Distinguished Service Medal, two Legion of Merits, and the Meritorious Service Medals.
He was a beloved Commander because of his focus on operational excellence and compassion for people. In 1994, Jim was inducted into the Air Commando Association Hall of Fame. In 1997, the AFSOC enlisted force presented him, in recognition of his leadership and continuous support for Airmen, with their highest-level award, the Order of the Sword. He was also inducted into the Commando Hall of Honor, established to recognize those who served with great distinction and demonstrated leadership and selfless service within the SOF Community.
Following his USAF career, Jim continued his impactful leadership as the President and CEO of Air Transport International for 11 years where he again won the hearts of his employees. While his military and civilian careers were exemplary, Jim - as a person - will be most missed. He enjoyed people and found common ground with everyone he met. He continued to serve others through his volunteer work at the University of Arkansas Medical School, providing support to cancer patients and their families. An avid golfer, Jim would start on the 1st tee box with strangers and end the round in the clubhouse as buddies. He will be remembered as a devoted and loving husband, father, and friend who shared his huge heart, quick wit and compassion with ease.
A celebration of life will be held in Marietta, Ga., at a later date. In lieu of flowers, donations can be made to the Special Operations Warrior Foundation (www.specialops.org) and the Alzheimer's Foundation (www.alzfdn.org).
Published May 26, 2023
OBITUARY SUBMITTED BY:
Memoriams.com
391 Inverness Parkway, Suite 300-B, Englewood, CO
E-mail: helpdesk@memoriams.com
Phone: 877-705-4995