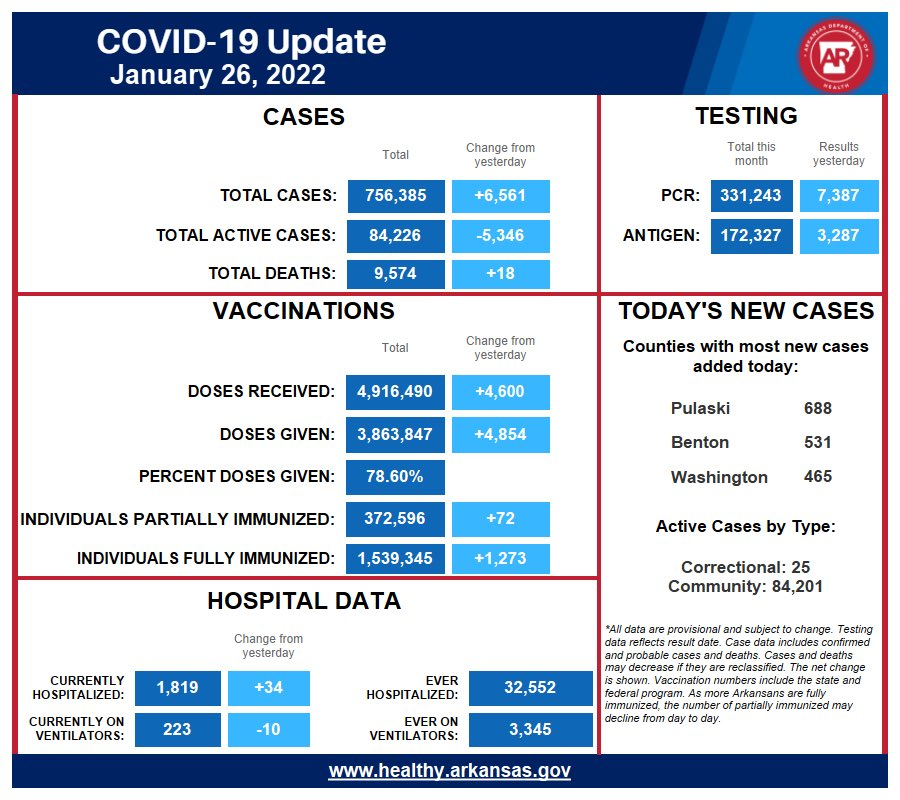 Arkansans 5 years old and up became eligible for the vaccine on Nov. 3, 2021.
3,975,287 doses have been administered in Arkansas to date, according to CDC figures.
Arkansans in Phases 1-A, 1-B and 1-C became eligible for the vaccine on March 16. Arkansans 16 years old and up became eligible for the vaccine on March 30, opening eligibility to all groups.
The first doses of the coronavirus vaccine were administered in Arkansas on Dec. 14, 2020. Walgreens and CVS pharmacies contracted with the federal Department of Health and Human Services in October, and their inoculations of long-term care facilities began in Arkansas, and nationwide, on Dec. 28.
There is a hotline to help schedule vaccine appointments for eligible Arkansans. The toll-free number, available from 8 a.m. to 6 p.m. Monday through Friday, is 1-800-985-6030. Translation services are available.
The hotline is intended to be supplementary to the existing system of calling your provider or pharmacy.
Phase 1-A (began in December):
Health care workers, long-term care facility residents and staff, emergency medical services and law enforcement or firefighters who serve as first-responders, some correctional health care workers and other employees are eligible.
Hospitals vaccinate employees, pharmacies vaccinate long-term care residents and staff and community-based pharmacies vaccinate others.
Gov. Asa Hutchinson said the 1A group includes 180,000 Arkansans.
Phase 1-B (all eligible as of March 8):
On March 8, all groups in Phase 1-B became eligible for the vaccine. That includes firefighters and law enforcement not counted under 1-A, manufacturing workers, grocery store/food delivery employees, public transportation workers, U.S. Postal Service workers and essential workers in government.
Hutchinson also announced that people with intellectual and/or developmental disabilities have been moved into category 1-B, because they are considered a "vulnerable population" and therefore susceptible to the virus.
Other groups in 1-B who became eligible for the vaccine prior to March 8 were teachers, school staff and childcare workers, food processing workers and Arkansas ages 65 and older.
Most groups can get vaccine appointments by contacting participating community pharmacies and medical clinics, though many school districts organized their own clinics to vaccinate employees.
Phase 1-C (all eligible starting March 16):
People 16-64 with high-risk medical conditions, transportation and logistics workers, waste and wastewater workers, food service workers, shelter and housing workers, finance workers, IT and communications workers, legal system workers, media, public safety and public health and human service workers will be eligible during this phase. They will also get their vaccines through community pharmacies and medical clinics.
People in this group receive vaccines through community pharmacies and medical clinics.
People living in congregate settings, such as prisons and group homes, as well as college students in dorms and Greek housing also became eligible March 16.
Arkansans 16 years old and up became eligible for the vaccine on March 30, opening eligibility to all groups.
Arkansans 12 through 15 years of age become eligible to receive vaccine
Gov. Asa Hutchinson announced May 11 that children ages 12 through 15 are now eligible for the vaccine.
The governor predicted opening the eligibility would result in another surge of demand.
Click here to see the state's current vaccination plan on the state Department of Health's website.
To see the latest information on covid-19 cases in Arkansas, visit our virus tracker page. For more about the virus' symptoms and treatment, visit our virus tracker page. If you would like to share your experience with coronavirus and the changes it has brought to daily life or to submit your own questions about covid-19, please use this form.
The table below lists the numbers of U.S. residents who have been vaccinated and who have received boosters, and compares those numbers by percentages of the population. Because totals may differ based upon the time of reporting, the Arkansas data includes information released by the Centers for Disease Control and Prevention (CDC) and the Arkansas Department of Health (ADH).
Updated January 26
Covid Vaccinations in the U.S.*
*Vaccination data reported on the CDC COVID Data Tracker may differ from data reported by states and territories for several reasons:
Data may be updated on different schedules and reflect data "as of" different dates or times of day. There may be a delay between the time a vaccination record appears in a state or jurisdictional system and when it is received by CDC.
Occasionally, there may be technical issues related to processing or transmission of data. When issues arise, CDC works closely with the states, territories, and federal entities to resolve the problem. CDC receives vaccine administration information from multiple sources, including jurisdictional immunization information systems, pharmacies, federal agencies receiving a direct vaccine allocation, and the Vaccine Administration Management System (VAMS), which supports temporary, mobile, or satellite clinics. Validation and business rules applied to prevent data duplication may cause data presented on the COVID Data Tracker to differ from what is in state immunization systems and dashboards. Every effort is made to reconcile doses administered that are reported through more than one system but, in certain circumstances, some vaccine doses administered could be counted more than once.
Health care providers report doses administered to federal, state, territorial, and local agencies up to 72 hours after administration. There may be additional lag for data to be transmitted from the federal, state, territorial, or local agency to CDC.
Doses are reported separately for federal entities. Doses administered by federal entities are not generally attributed to the jurisdictions in which they were administered. However, some federal sites may report such doses to both the jurisdiction and to the federal entity. Percentages display as "N/A" for federal entities because population-based rates are not applicable. Veterans Health Administration (VHA) totals include employees, veteran patients, and other federal partners vaccinated by VHA.

---
MORE FROM THE ARKANSAS DEMOCRAT-GAZETTE