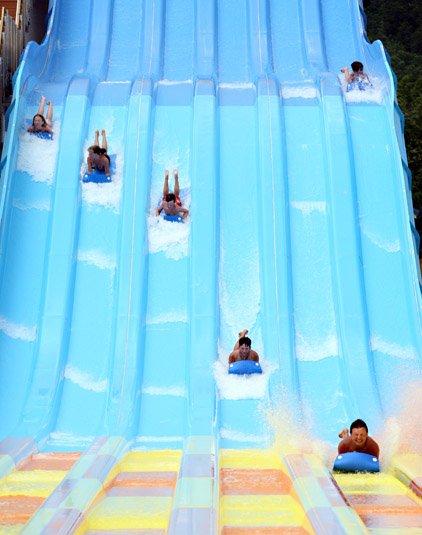 Park goers slide headfirst down the Rapid Falls Raceway at Magic Springs & Crystal Falls in Hot Springs. The raceway is new this year.
LITTLE ROCK — For central Arkansans in need of a roller coaster fix, Magic Springs & Crystal Falls in Hot Springs is the closest place to quench the thirst for thrills. The amusement park, also home to a water park and an amphitheater, reopened to new ownership in 2000 and has been adding attractions each year since.
While the park has made big strides, roller coaster aficionados should lower their expectations.
With just three "high thrill" roller coasters and a vertical drop ride, the park is no daredevil haven just yet.
But that doesn't mean Magic Springs doesn't warrant a visit.
Park admission includes the Crystal Falls water park, which boasts the new Rapid Falls Raceway slides as well as two other slide towers, a wave pool, a lazy river and plenty of lounge space. The park is impeccably clean and well-landscaped and situated in rolling green hills, so even if the roller coasters don't quite get the adrenaline racing, the park offers variety and pleasant family fun.
Earlier this week Florida-based PARC Management LLC announced it is buying the property from Magic Springs Development Co. LLC. No changes to the park have been announced, but season passes from other PARC Management amusement parks, entitling holders to unlimited visits throughout the 2008 season, will be accepted at Magic Springs and other PARC properties. Those properties are Darien Lake Theme Park Resort near Buffalo, N.Y. (www.go darienlake.com); Elitch Gardens in Denver (www.elitchgardens.
com); Frontier City in Oklahoma City (www.frontiercity.com), White Water Bay, also in Oklahoma City (www.whitewaterbay.com);
Splashtown near Houston (www.
splashtownpark.com); Waterworld California in Concord, Calif.
com) and Wild Waves Theme Park, near Seattle (www.wildwaves.
com).
Here's our advice for a day at the park:
Tickets: A daily pass is $45.99 plus tax. Buy online at www.mag icsprings.com for a $10 discount.
A season pass, which also buys entrance to all summer concerts in the Timberwood Amphitheater, is $49.99 plus tax. Parking is $9 each visit, so those planning more than three visits this season might consider the Gold Pass, $79.99 plus tax, which comes with free parking anda coupon book.
Getting there: Season passes purchased online must be processed at the park, so expect to wait on the first visit. On a weekday at the end of May when lines for rides in the park were minimal, we stood for 25 minutes in this line, the longest wait for anything that day. The park opens at 11 a.m., and passes aren't processed before then. Daily pass holders, however, can have their tickets scanned and head straight in.
It's OK to forget the sunscreen or extra money: Beginning last year, the park has free sunscreen stations near the entrance.
No brand or SPF level is listed, so it might be best to apply it more than once throughout the day.
Unlike many amusement parks where thirsty patrons must fork over cash for overpriced beverages, Magic Springs also offers free Pepsi products and water. Several selfservice fountain drink spots can be found throughout the park and all food vendors also serve free drinks.
Water tubes are also free.
And don't worry, it's not a ploy, says Aundrea Crary, the marketing manager of the park.
"Another park in Florida has seen their numbers go up by giving people an opportunity to have complimentary drinks," she says. "Really, people were under the assumption they would have to purchase some-thing, and we tell them, 'No, it's actually free.' The trend we saw was not only an increase in season pass purchases, but also an increase in purchases in other places in the park." Avoid crowds and go now: On our visit, lines for rides were essentially nonexistent. We rode the Arkansas Twister and The Gauntlet roller coasters three times in a row with no waiting.
Crary says the core season usually begins at the end of June, but she added that Hot Springs schools have now let out, so crowds may already be picking up. So to easily skip from ride to ride, go sooner rather than later. But while it may be convenient to avoid the lines, we discovered that some of the excitement about the roller coasters is lost without 30 minutes of anticipation.
Don't miss: Dr. Dean's Rocket Machine takes our top prize.
At 100 feet, the vertical free-fall ride isn't as tall as others we've ridden, but it's superior in one regard: Instead of slowly inching to the top, the "rocket machine" shoots up almost as fast as it plummets down. It only lasts about a minute, but it bounces back and forth three times for stomach-dropping, feet-tingling, weightless free-fall perfection.
The Arkansas Twister, an oldfashioned wooden coaster with a 100-foot drop and top speed of 50 mph, and The Gauntlet, a steel coaster with suspended seats, a steep 100-foot drop and five inverted loops, don't deliver Dr. Dean's thrills but are worthwhile.
The Hawk, which swings back and forth until riders are suspended upside down, was another favorite.
The Rum Runner Pirate Ship looks tame but offers surprisingly superb stomach drops. Riders sit in rows facing the other patrons, which adds to the "fun," depending on the other patrons.
We got into a screaming competition with the children across from us, which was amusing at first, and annoying after the seventh round.
We can't make a judgment on the X-Coaster, the 150-foot corkscrew coaster, because it was closed on our visit. Crary says the ride has been closed because a mechanical part must be special-ordered from Europe. She expected it to reopen soon.
What to skip: Unless you're a child or perhaps an exceptionally petite adult, avoid the mini-roller coaster Twist andShout at all costs. As the ride zips along on a zigzag track, the switchbacks slam riders from one side of the car to the other.
Some might call it fun; we call it whiplash. And the bruises on our hips are still healing.
Big Bad John, another wooden coaster, has no thrilling loops or drops to make up for all the uncomfortable jolts. Because the harness is only on the waist, we found it difficult to brace our necks and got off the ride feeling stiff.
Where to sit: Minimal crowds let us try out the roller coasters in different seats.
While the front might be enticing, it's not as fast as the back.
On the slightly rickety Arkansas Twister, the front was not only slower, but also brought more jerks, jolts and headache potential.
Eyes wide open: When the X-Coaster became stuck with a car full of riders last year, David Letterman joked in his Top 10 List: "I never realized how beautiful Hot Springs, Arkansas, is upside down." He's actually right. MagicSprings has something many parks don't: a picturesque backdrop. Instead of staring down at a suburban mall parking lot or freeway while hanging upsidedown, riders are surrounded by the forested slopes of the Ouachita Mountains. Particularly on rides that linger 100 feet in the air, the views make the rides special. Make sure to pry open the eyes on Dr. Dean's Rocket Machine and The Hawk, and while bobbing up and down on the Arkansas Twister, which is tucked into a corner of the park next to the mountains.
Listen up: On our visit, the music, thankfully, seemed to be chosen for the adults, especially those who dig 1960s and 1970s rock. The playlist included Fleetwood Mac, Creedence Clearwater Revival, Neil Young, Black Sabbath, Journey, The Beatles, Joe Cocker, Bob Seger and Pink Floyd.
"Exceptionally tall or large guests may be too large to ride": This piece of advice is included in the recording played before each ride. Heed it. A 6-foot-2, 250-pound companionsat through several uncomfortable rides, shoulders cramped, struggling to take a deep breath.
He elected not to ride the Wild Thang or Dr. Dean's Rocket Machine.
Twist and Shout and Big Bad John were also particularly brutal for him. A frequenter of Adventure Land in Kansas City, Mo., Six Flags parks in Atlanta and Gurnee, Ill., and Waldameer Amusement Park in Erie, Pa., he deemed those two the most uncomfortable rides he's ever encountered.
As for The Hawk, he says, "It was by far one of the scariest ...I spent half the time clinging for life just in case the mechanism holding me in broke." Maximum weight and height restrictions differ for each ride, Crary said. The best test is if the rider can comfortably fit in the seat with the lap restraint or safety harness. Slides in Crystal Falls have a maximum weight limit of 250 pounds.
For this friend, the only rides that passed the comfort test were Arkansas Twister, Rum Runner and the water rides Plummet Summit and Log Flume.
Park itinerary: Most people seemed to have the same idea as we did: We rode the roller coasters upon arrival, headed to the water rides in the amusement park, then ate lunch and saved the wave pool, lazy river, and slides in the water park for the hottest afternoon hours. The longest lines of the day were for the slides in the afternoon.
On a hot, busy day, reversing the order and heading first to the water park, then to the amusement park might be smart.
Nosh away: Despite the free drinks, food prices aren't outrageous. Two slices of pizza and a cheese-filled breadstick cost $7.99. An entire pizza plus a liter of soda and breadsticks cost $29.99. Stands with nachos, burgers and hot dogs, plus a sitdown restaurant are also available. Save room for fried Oreos, $4.99, at funnel cake stands.
Invest in a locker: "Smart lockers," where patrons choose a personal identification number, cost $10 for a large, or $7 for a small. When we spent an hour and a half looking for the car keys that fell out of a cargo pants pocket, the $7 locker seemed like a small price to pay.
Luckily, we eventually found the keys in a "log" raft. Whew.
Bottom line: For families who want to make multiple visits, the season pass is a good deal. The park also has plenty of games, kiddie rides and shallow swim areas for young children.
But roller coaster fanatics (and "exceptionally large guests") might want to save their money and vacation time for a trip to a bigger park.
Weekend, Pages 70, 71 on 06/13/2008
Sponsor Content