LITTLE ROCK — The top finishers have crossed the line at the Little Rock Marathon, which drew thousands of runners, joggers and walkers in its eighth year.
Moninda Marube, of Keller, Tx., won the marathon with an unofficial time of 2:29:41. On the women's side, Little Rock's Leah Thorvilson won the event for the second year in a row, posting a time of 2:48:28.
Full results are available here.
Marube said he was able to run at an easy pace and enjoy the race because he didn't feel pressure from the other runners.
"Nobody was pushing me," he said.
Thorvilson, meanwhile, said she was hoping to finish with a better time. She called that a "mild disappointment" but said she enjoyed running and getting strong support from her hometown.
"Having the city behind me was amazing," she said moments after finishing. "I've never had personal support like that in any race I've won. It's just really neat ... It's a very special day."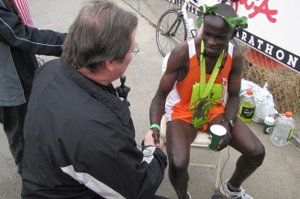 Photo by Gavin Lesnick
Moninda Marube accepts congratulations and an award from Little Rock Mayor Mark Stodola after winning the Little Rock Marathon.
Runners in the 13.1-mile half marathon began crossing the finish line shortly after 9 a.m. Gabriel Ghioca, 22, of Little Rock, took the men's event with a time of 1:12:44, while Julie Bokermann was the first female finisher at 1:28:57.
Bokermann, 30, of St. Louis, said she didn't realize she was in the lead until about a half-mile was left.
"I never thought I would ever have that moment, so it was pretty awesome," she said of crossing the finish line first. "(It was) adrenaline, wanting to cry at the same time. I was kind of just overjoyed."
Gallery: Little Rock Marathon
At more than 9,000 participants in the events Sunday and other weekend race activities, this year was the largest in the Little Rock Marathon's history.
"It's probably one of the best marathons anywhere," said Sharon Lee, a spokesman for the event. "And the people of Little Rock embrace this race ... Everybody in the city gets involved."
Runners from all 50 states and eight different countries made up a field of participants which stretched several blocks back from the starting line on President Clinton Avenue at Sherman Street. Officially, 1,845 people started the marathon and 3,698 began the half marathon. About 1,000 people ran the relay event.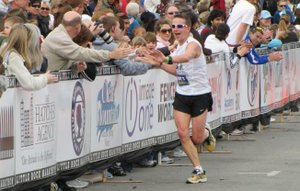 Photo by Gavin Lesnick
Gary Taylor high-fives supporters as he finishes the Little Rock half marathon.
Keith Panzer, 51, came in from Denver to race in his 243rd marathon and second in Little Rock. He has run marathons in all 50 states and called Little Rock "one of the really nice small marathons around the country."
"As opposed to the crowds they get in New York and Chicago, this is very nice," Panzer said a few minutes before the 8 a.m. start time.
Shirley Hyman, 42, was preparing to race in her sixth Little Rock marathon and 20th overall. She said the key to success is being ready for the hills.
Hyman, of Fort Smith, said shortly beforehand that she expected to finish in a little over 4 hours. But she said it's really not about the time.
"I'm here to enjoy the day and enjoy the run," she said. "Anything is good, I'm going to have a good time."
Jon Kimmel, an aerospace engineer from Norman, Okla., led the pace group for runners aiming for a 3:30 marathon.
He ran here last year and thought it was a "neat race," so he came back for a second event.
Running is rewarding, Kimmel said.
"It's the sense of accomplishment when you get done - all the months of training and everything pays off in the end," said Kimmel, 51. "You can say 'I did that.'"