Arkansas native and actor-producer Lisa Blount, 53, was found dead in her Heights home Wednesday by her mother.
Pulaski County Coroner Garland Camper said that Blount likely died on Monday and that there were no signs of foul play in Blount's North Woodrow Street home.
Blount's husband, film actor, screenwriter, director and producer Ray McKinnon, was out of town this week.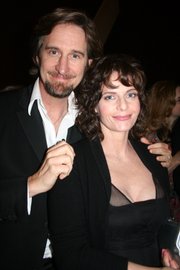 Blount and McKinnon, moved to Little Rock in 2005.
Blount won the Academy Award for Best Live Action Short Film as producer for 2001's The Accountant, along with McKinnon, who directed and starred in the film.
Blount's debut movie role was as a friend of Debra Winger's character in 1982's An Officer and A Gentleman.
Born in Fayetteville, Blount grew up in Jacksonville and graduated from Jacksonville High School in 1975.
Read tomorrow's Arkansas Democrat-Gazette for full details.
Thank you for coming to the Web site of the Arkansas Democrat-Gazette. We're working to keep you informed with the latest breaking news.