LITTLE ROCK — Arkansas' population grew by more than 9 percent between 2000 and 2010, according to census information released Thursday.
The data show declines in a number of counties in southern and eastern parts of the state as well as big gains in Benton and Faulkner counties.
Pine Bluff's 's population fell below 50,000 (to 49,083) for the first time in decades while Jonesboro — which celebrated reaching the 50,000 mark relatively recently — now has more than 67,000 residents.
The U.S. Census Bureau released the information Thursday as part of its gradual effort to provide all states with their population statistics by April 1.
Arkansas' population as a whole increased by 9.1 percent, swelling from 2,673,400 in 2000 to 2,915,918 in 2010.
Click here for an interactive map of the Census data.
Little Rock, the state's most populous city with 193,524 residents, grew by 5.7 percent between 2000 and 2010. The next most populous cities in Arkansas were Fort Smith with 86,209 residents, Fayetteville with 73,580, Springdale with 69,797 and Jonesboro with 67,263.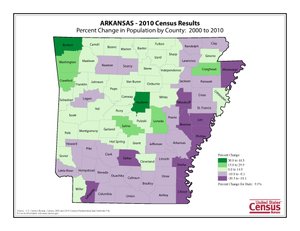 This graphic provided by the U.S. Census Bureau shows the population changes across Arkansas between the 2000 census and the 2010 census.
Springdale grew by 52.4 percent between the 2000 and 2010 censuses while Fayetteville increased by 26.8 percent and Jonesboro by 21.2 percent.
Pulaski County is the largest in the state with a population of 382,748, a 5.9 percent increase from 2000.
Benton County had the biggest increase in population of any county in the state, moving from Arkansas' third-most populous county to its second biggest with a 44.3 percent jump. The population in 2010 was 221,339, nearly 70,000 more people than lived there in 2000.
Faulkner County grew by 31.6 percent, Lonoke County by 29.4 percent, Saline County by 28.2 percent and Washington County by 28.8 percent. Mississippi County, Union County and Jefferson counties all had declines of at least 8.1 percent.
The population data will be used to redraw federal, state and local legislative districts based on population shifts since the 2000 census.
Secretary of State Mark Martin issued a statement Thursday afternoon saying he hoped that process begins shortly in Arkansas.
"Having these census numbers in hand is a necessary first step in the reapportionment process," he said. "While we are in the preliminary stages, I do welcome an initial meeting with Governor Beebe and Attorney General McDaniel to share input on re-drawing state legislative districts. We will soon release information on hearings to gather public comment from people across the state."