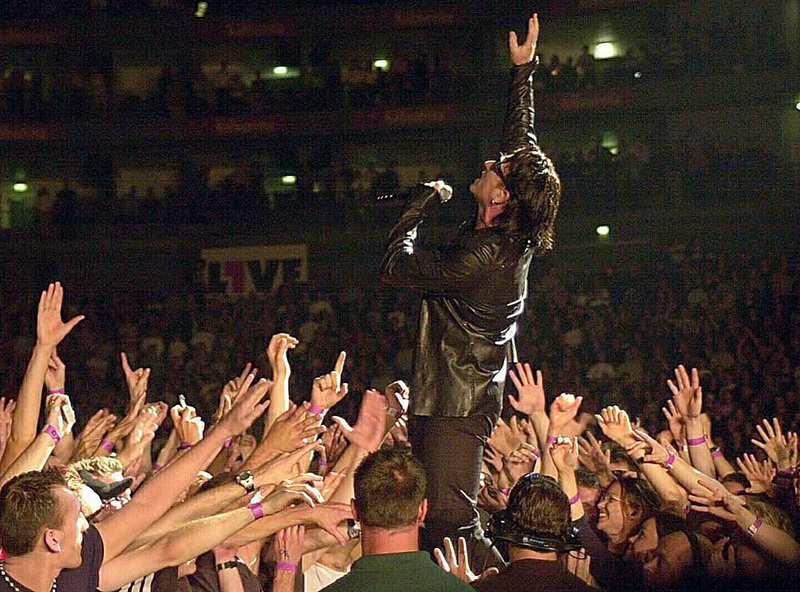 U2's Bono has tried to focus attention on global poverty. Now, U2 is allowing its music to be played in church worship services, if the collections are turned over to anti-poverty groups.
LITTLE ROCK — It's a Mass for the MTV generation, a Eucharist for Christian rock 'n' roll connoisseurs, and it's coming to Little Rock's First United Methodist Church, Friday and Feb. 6.
Known as a U2charist, it's an hour long ecumenical Communion service featuring songs and videos by U2, the chart-topping, Grammy-winning Irish megaband.
"Many folks who aren't necessarily fans of what I'd call 'traditional church' are fans of U2's music," said Michael Mattox, the congregation's pastor.
"What makes it [U2charist] special is, it's a way to reach out and be relevant."
The U2charist, Mattox notes, is not a Methodist invention.
It was first celebrated by East Coast Episcopalians nearly seven years ago.
Since then, via YouTube and the Internet, it has become a global phenomenon.
U2 "had their beginning in Ireland as a Christian rock band and they've remained committed to their Christian faith and values," Mattox said. "Many, many of the songs have spiritual themes, Christian themes about redemption, wholeness, salvation."
Sarah Dylan Breuer, a member of the Episcopal Church's national executive council, says she created the U2charist "originally because I'm a U2 fanatic."
"I love their music and wanted to share the versatility of it for settings of worship,"she said. "I did not anticipate that the U2charist, pretty much as it was first done in 2004, was going to get picked up and go viral around the world as it has."
"I've talked with people who have done U2charist in South Africa, Australia, Italy, Ireland, Britain, Denmark," she said. "The band has been generous enough to allow the use of their music for this particular purpose as long as it's billed as a service of worship and not a concert, and as long as every penny raised goes to fighting global poverty."
Contemporary worship leader Brian Carpenter says First Methodist's First Word band will play five different U2 songs, interspersed with prayers, Scripture readings and parts of the liturgy.
The lyrics will flash on the screens so that the crowd can sing along.
"We've been preparing since October. We're very close to being ready," Carpenter said. The music is "all amped up. It's not deafening, but it's pretty loud."
"Our objective is not to be U2 - they're such a unique and dynamic group. But we love their music and we love the message of many of their songs, the message of redemption and pressing on," Carpenter said. "U2's music speaks to multiple generations." An offering will be collected for Heifer International.
Mattox says the U2charist is "kind of an experiment" for his congregation, and he's not sure how many unchurched Arkansans will show up.
"What we hope to do is be completely open and welcoming to anyone who comes in the door," Mattox said. "We hope it will be an exciting and engaging experience." The U2charist will take place at Little Rock's First United Methodist Church, 723 Center St., Friday at 7 p.m. and Feb. 6 at 9 a.m. More information is available at (501) 372-2256.
Religion, Pages 14 on 01/29/2011
Print Headline: U2, Methodists?
Sponsor Content