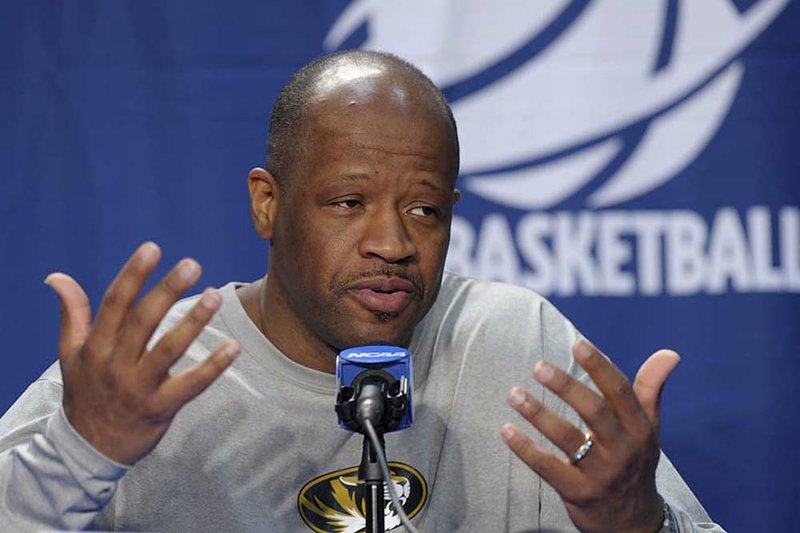 Former Arkansas assistant and current Missouri Coach Mike Anderson had been linked to Arkansas' men's basketball head coaching vacancy since John Pelphrey was fired March 13.
FAYETTEVILLE — Mike Anderson has officially been named Arkansas' head men's basketball coach, according to a news release distributed Wednesday evening.
The University of Arkansas is expected to hold a press conference Thursday.
"We are extremely excited to welcome home Mike Anderson to the University of Arkansas as our new head men's basketball coach," said Jeff Long, vice chancellor and director of athletics at the university.
Anderson, who attended a funeral Wednesday morning in Tulsa, was expected to meet with his team at Missouri Wednesday night at 7 p.m.
Anderson, who has spent the last five seasons as head coach for the Tigers, has been considered the leading candidate to fill the void at Arkansas left when John Pelphrey was fired March 13.
Anderson's contract at Arkansas, which was approved by the Razorback Foundation Wednesday, will be for seven years and worth $2.2 million annually.
Missouri worked diligently to keep Anderson, going as far as offering to extend his contract through the 2018 season and raise his annual salary to $2 million, according to multiple reports.
Anderson had a 111-57 record with the Tigers, leading the team to the NCAA Tournament each of the past three seasons. Missouri lost to Cincinnati last Thursday in the second round of the tournament.
Despite Missouri's attempts, Anderson's affection for Arkansas - where he spent 17 seasons as an assistant coach for Nolan Richardson - was too much to pass up. During his time in Fayetteville, the Razorbacks went to three Final Fours, won the 1994 national championship and moved into the spacious Bud Walton Arena.
Anderson served as Arkansas' interim coach for the final two games in 2002 after Richardson was fired. He interviewed for the head coaching job after the season, but Stan Heath was ultimately hired.
Anderson was hired shortly thereafter at Alabama-Birmingham, where he finished with an 89-41 record in four seasons, leading the Blazers to three NCAA Tournament appearances.
Sponsor Content