Dozens, young and old, gathered to watch as the Peabody ducks waddled through the Little Rock hotel's lobby for the penultimate time and into the first-floor fountain for the final time Tuesday morning.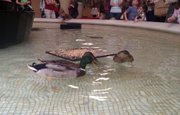 The Peabody hotel in Little Rock's River Market district is in the middle of an ownership change and is scheduled to become a Marriott on Wednesday.
Duck Master Lloyd Withrow said the day has been "pretty emotional."
"I'm going to miss the ducks," Withrow said. "But the thing I'm going to miss the most is all the experiences surrounding the ducks and the duck march."
Withrow, duck master since 2004 at the Little Rock Peabody hotel, has been able to experience what he called "once in a lifetime" opportunities. Withrow said during his nine years as duck master, he's been able to entertain and work with the likes of former President Bill Clinton and family, along with other notables such as Lucie Arnaz, the daughter of the late Desi Arnaz and Lucille Ball.
"It all revolved around them coming in, seeing the ducks and wanting to know about them," he said.
Withrow admitted the position of duck master was one he planned on having for only "maybe a year or two," but over time, the position became a unique time in his life that he won't soon forget.
"I've always wondered as I was going along how this would end," Withrow recalled with a chuckle. "And here it is."
After a final swim, the ducks will exit the fountain at 5 p.m. Tuesday and head to the hotel's preserve farm in Scott, although the group still has another year of entertaining at other Peabody locations before being retired to private lakes and ponds in Arkansas, Withrow said.
Each group of ducks that performs at a Peabody location does so for three years, before being retired.
Ducks have been a trademark for three Peabody hotels, including Little Rock's, and were first introduced 80 years ago at the hotel chain's Memphis establishment. The first duck march in Little Rock was Jan. 31, 2002.