Professor teaching makeup, costumes and equality
Originally Published July 7, 2013 at 12:00 a.m.
Updated July 5, 2013 at 11:32 a.m.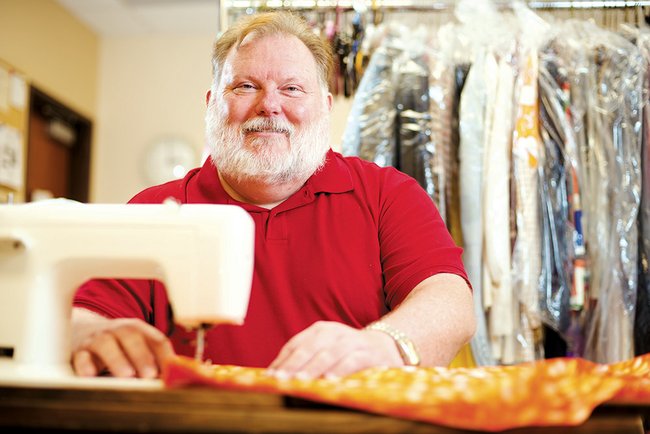 PHOTO BY: Rusty Hubbard
William Henshaw is the resident costume designer and an associate professor of theater arts at Henderson State University in Arkadelphia. Initially, Henshaw did not set out to work in the field of his current endeavors. Instead, he obtained a degree in biology and became a teacher.
ARKADELPHIA — William Henshaw may have earned a degree in biology and taught life sciences, chemistry and mathematics in high schools for seven years, but he was always interested in the theater.
"I have been involved in some kind of theater since I was in the senior play in high school and the theater bug
bit me," Henshaw said from his office at Henderson State University in Arkadelphia. "I had a music and theater minor at Transylvania University in Kentucky, working as an actor and backstage. I was once helping a professor pull some costumes from a closet, and he said, 'You like this; you do it,' and I have been making costumes ever since."
Henshaw has been resident costume designer and an associate professor of theater arts at Henderson since 2000. He said creating costumes for a project involves more than just dressing the actors.
"The costume supports the production," he said. "It helps bring a character from the written page and gives it more life."
He said a costume begins with a talk with the director.
"It might happen months before the show is even cast, but we talk about
the character's and the director's vision," Henshaw said. "When we start with measurements for the actors and the fittings, I will talk with the student actors about how they see the character."
The veteran costume designer said he enjoys helping students realize
their dreams by constructing a cos-tume of the character they want to portray.
Sometimes, the right costume is just a suit of clothes, but the ordinariness of clothing conveys a mood or point of the story, or about the character. Henshaw said one of the interesting costumes he created was for a production of Hotel Cassiopeia, by Charles L. Mee.
"What made making the costume interesting is that in the play, you don't know if the character the Herbalist is real," Henshaw said. "We took it that he wasn't and made a costume that showed what he did with vines growing around his arms and making the stripes of his suit. In that case, the costume was the character."
While Henshaw was interested in music and theater, his college degree was in biology, and he spent several years teaching in high schools in Kentucky and California.
"I liked teaching, but I got tired of the parents and administration," he said. "When the school where I was teaching in 1990 closed, I took it as an opportunity to do something else, and that was theater."
He took undergraduate courses in theater at San Jose State University and earned a Master of Fire Arts degree in drama with an emphasis in costume design at San Diego State University.
After graduation, Henshaw was an adjunct professor and costume studio manager at Texas Christian University in Fort Worth. In the summers, he worked with the Utah Shakespearean Festival as a first hand, a job he described as a junior cutter helping to create costumes.
He joined the theater faculty at HSU in 2000.
"I wanted to get closer to my parents in Kentucky, and I wanted to teach and work at the designer level," he said.
In addition to his theater work, Henshaw got involved in a program of women's and gender studies at Henderson State.
"I have always been an advocate of equality," he said. "I was on the university Academic Council when they asked for a minor in gender studies, and I helped get it started. Soon I was teaching a class on women, gender and race in theater."
During some of the summers, Henshaw helped create costumes for the Santa Fe Opera and for the Glimmerglass Opera in New York. He has also been a costume designer for Shakespeare festivals in Texas, Oklahoma and Oregon.
Henshaw was also the costume, set and lighting designer for the world premiere of an opera, The Scarlet Letter, presented by the opera department at the University of Central Arkansas in Conway. He has also directed a number of plays for the theater department at Henderson.
"We have three teachers and 45 students and teach acting, directing and drama analysis," he said.
Away from the campus in Arkadelphia, he has taken on a role that not only allows him to step out from behind the curtain, but allows him to use his talents in makeup, costume deign and acting.
"A couple of people asked me to be Santa Claus in the Arkadelphia Christmas Parade, and I have been doing it for seven or eight years," Henshaw said. "I love doing it.
"There is a Breakfast With Santa and programs for underprivileged children who are not expecting anything for Christmas, and I watch them open their presents."
Henshaw also plays Santa in Hot Springs for children whose parents are in drug rehab.
To portray Santa, Henshaw grows a real beard, but it comes off just after Christmas.
"Spring semester is when I teach makeup, and I use my face because
I know how to do it without looking," he said. "Then I start growing [the beard] back in May when classes are over."
When fall classes start, Henshaw
will go to work on the Laramie Project, a play about the reaction of a 1988 murder of a gay University of Wyoming student in Laramie. The murder brought attention to the lack of hate-crime laws.
"This is the 10th anniversary of the theater being in the renovated Arkansas Hall on campus, and we did the play for the opening of the theater then," Henshaw said. "In addition, the book of the play will be read by all the incoming freshmen at the university as part of the Reddie Reads program."
Later in the fall, work will start on the production Scrooge: The Musical.
Henshaw will be busy creating costumes for both productions and may work on a new Santa suit.
Staff writer Wayne Bryan can be reached at (501) 244-4460 or wbryan@arkansasonline.com.
Tri-Lakes Edition Writer Wayne Bryan can be reached at 501-244-4460 or wbryan@arkansasonline.com.