LITTLE ROCK — Arkansas Supreme Court Chief Justice Jim Hannah swore in three state court interpreters on Thursday, including the first certified Marshallese interpreter in the country.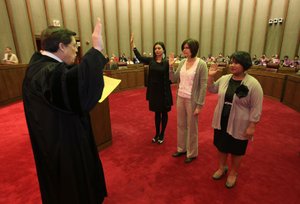 Photo by Staton Breidenthal
Arkansas Chief Justice Jim Hannah swears in new certified court interpreters Jivette M. de Jesus Rullan (from left), Ines Yahaira Fernandez Ortiz and Melisa Laelan on Thursday in the Supreme Court courtroom.
Melisa Laelan, of Springdale and a native of the Marshall Islands, joined two Spanish interpreters, Jivette de Jesus Rullan of Bentonville and Ines Yahaira Fernandez of Springdale, for the ceremony at the Justice Building.
"Without the aid of professional court interpreters, the administration of justice is at risk," Hannah said before administering the oath.
The chief justice said that since 1990, the number of households in the state where English is not spoken has more than tripled; in Arkansas, almost three-quarters of those with limited English proficiency speak Spanish.
The court has worked to expand the services offered for non-English speakers and created the Office of Court Interpreter Services in 2001.
"For many years this court has recognized the critical role played by interpreters in our courts. The parties in the more than 1.5 million cases filed each year in our courts rely on us to protect their rights and resolve their disputes," Hannah said.
In 2012, the court received 7,000 requests for court interpreters in 17 different languages.
Hannah said that after Spanish, Marshallese is the second most-requested language in the court system. The courts also have certified Hmong, Arabic, Mandarin, Russian, Korean and sign language interpreters.
In addition to Rullan and Fernandez, there are 16 other certified Spanish interpreters.
Court interpreters in the state must complete a certification process that includes a background check and they must complete the Candidate Assessment Exam, orientation and training.
Mara Simmons, the director of Court Interpreter Services, said candidates for certification are observed in court proceedings and go through several language proficiency tests.
Most candidates work with other interpreters, but because of the uniqueness of her language, Laelan frequently did her own research and study, Simmons said. Laelan was also delayed in receiving her certification because she had to wait for the Consortium for Language Access in State Courts to develop a Marshallese test.
Northwest Arkansas is home to 4,300 Marshallese, or about 19 percent of the total Marshallese population living in the United States, according to the 2010 Census.
Laelan has been on contract with the courts since 2007 and responded to 800 cases last year, according to information provided by the court.
"Melisa ... has been indispensable to the courts in the area, single handedly taking on nearly all of the Marshallese interpreting requests for the last few years," Hannah said.