WASHINGTON - The Senate Foreign Relations Committee voted to authorize President Barack Obama to conduct a limited U.S. military operation against Syria over the use of chemical weapons.
The committee vote, 10-7, clears the way for consideration of the resolution by the full Senate. Majority Leader Harry Reid, D-Nev., said that will begin Monday when Congress officially reconvenes after a five-week break.
The committee's action was the first hurdle for Obama in his bid for congressional support for strikes against the regime of Syrian President Bashar Assad, who has threatened to retaliate. The U.S. has said the chemical attack Aug. 21killed more than 1,400 people outside Damascus, including many women and children. Assad's government denies responsibility.
Two Democrats on the panel, Tom Udall of New Mexico and Chris Murphy of Connecticut, voted against the resolution after voicing concerns that the U.S. risked being drawn into the Syrian civil war.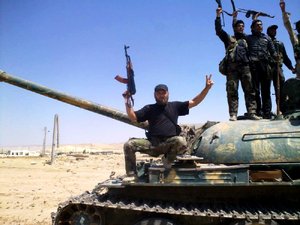 Photo by AP/Aleppo Media Center
Syrian rebels celebrate atop a government tank Wednesday in Idlib province.
The resolution supports the use of force in a "limited and specified manner against legitimate military targets" during a 60-day period after enactment, with a possible 30-day extension. The resolution rules out the use of U.S. ground troops in combat roles.
The committee adopted the measure after approving by voice vote two amendments by Sens. John McCain of Arizona, a leading Republican voice on national security, and Chris Coons, D-Del.
The resolution calls for the U.S. to "create favorable conditions for a negotiated settlement" in Syria, which it says requires "decisive changes to the present military balance of power on the ground." That, McCain said, means moving to "upgrade lethal and nonlethal capabilities of vetted elements of Syrian opposition forces," a move some lawmakers in both parties oppose on the grounds it might lead to deeper U.S.
involvement.
The Senate panel's vote marked the first formal response in Congress, four days after Obama unexpectedly put off an anticipated cruise-missile strike against Syria last weekend and instead asked lawmakers to unite first behind such a plan.
White House press secretary Jay Carney said in a statement the resolution would "uphold America's national security interests by degrading Assad's chemical-weapons capability and deterring the future use of these weapons, even as we pursue a broader strategy of strengthening the opposition to hasten a political transition in Syria."
Obama, visiting Sweden before attending the Group of 20 nations summit in St. Petersburg, Russia, said the confrontation with Syria is a test for the global community and the consensus against the use of chemical weapons, not his own credibility, despite saying a year ago that the use of chemical weapons would cross a "red line."
"My credibility is not on the line," Obama said at a news conference in Stockholm. "The international community's credibility is on the line. And America and Congress' credibility is on the line because we give lip service to the notion that these international norms are important."
"I didn't set a red line," Obama said. "The world set a red line."
In Rome on Wednesday, Pope Francis stressed the Vatican's opposition to a military strike, urging Catholics and non-Catholics alike to take part in a day of fasting and prayer for peace Saturday.
In France, Prime Minister Jean-Marc Ayrault made a passionate appeal during a parliament debate for intervention in Syria, placing the blame for the chemical attack on Assad and warning that inaction could let him carry out more atrocities.
The debate ended without a vote because President Francois Hollande can order a military operation without one. He has said, however, that he will wait to see what U.S. lawmakers decide before taking any action.
Senate committee members Wednesday scrutinized the draft for language that could open the door for deeper U.S. involvement in Syria, where more than 100,000 people have died in the uprising against Assad's regime since it began in March 2011.
At the request of Sen. Dick Durbin, D-Ill., the committee amended the measure to authorize "limited and specified" actions rather than "limited and tailored," as set out in the draft by committee Chairman Robert Menendez, D-N.J.
The committee Democrats voting for the measure were Menendez, Durbin, Coons, Barbara Boxer of California, Ben Cardin of Maryland, Jeanne Shaheen of New Hampshire and Tim Kaine of Virginia. Republicans who supported it included the top party member on the committee, Bob Corker of Tennessee, and McCain and Jeff Flake, both of Arizona.
The senators who voted against the resolution were Democrats Udall and Murphy, and Republicans James Risch of Idaho, Marco Rubio of Florida, Rand Paul of Kentucky, Ron Johnson of Wisconsin and John Barrasso of Wyoming. Ed Markey, a Massachusetts Democrat, voted "present."
Paul, a conservative with strong Tea Party ties, has threatened a filibuster when the measure reaches the Senate floor.
Obama's plan also faces opposition in the House, where a Republican majority consistently opposes the president and some left-leaning Democrats are lining up against military action in Syria.
In the first House hearing on the matter Wednesday, Secretary of State John Kerry responded heatedly when Rep. Jeff Duncan, R-S.C., said Kerry, Obama and Vice President Joe Biden all had advocated for caution in past conflicts.
"Is the power of the executive branch so intoxicating that you have abandoned past caution in favor of pulling the trigger on a military response so quickly?" Duncan asked.
Kerry, who fought in Vietnam in the 1960s and voted to authorize the war against Iraq a decade ago, shot back angrily: "I volunteered to fight for my country, and that wasn't a cautious thing to do when I did it."
Meanwhile, the Republican chairman of the House Foreign Affairs Committee criticized Obama's Syria policy as "adrift," without saying whether he would support a military strike.
"The administration's Syria policy doesn't build confidence," Rep. Ed Royce of California said at a panel hearing on Obama's request. "For over two years, U.S. policy has been adrift."
"There are no easy answers," Royce said. "Syria and much of the Middle East are a mess."
WARNINGS UNKNOWN
As lawmakers debated the issue of military action in Syria, officials revealed that U.S. intelligence agencies did not detect the Syrian regime readying the chemical weapons attack in the days ahead of the strike, only piecing together what had happened after the fact.
One of the key pieces of intelligence that Kerry later used to link the attack to the Syrian government - intercepts of communications telling Syrian military units to prepare for the strikes - was in the hands of U.S. intelligence agencies but had not yet been "processed," senior U.S. officials said.
"We know that for three days before the attack the Syrian regime's chemical-weapons personnel were on the ground in the area making preparations," Kerry said as he presented the evidence ina State Department speech last week. "We know that the Syrian regime elements were told to prepare for the attack by putting on gas masks and taking precautions associated with chemical weapons."
But the Obama administration only uncovered the evidence after Syrians started posting reports of the strike from the scene of the attack, leading U.S. spies and analysts to focus on satellite and other evidence showing a Syrian chemical-weapons unit was preparing chemical munitions before the strike, according to two current U.S. officials and two former senior intelligence officials.
The spokesman for the director of national intelligence confirmed that U.S. intelligence did not detect the attack beforehand.
"Let's be clear, the United States did not watch, in real time, as this horrible attack took place," Shawn Turner said Wednesday.
Turner offered no reason for the delay in processing the intelligence, but current and former intelligence officials said analysts were stretched too thin with the multiple streams of intelligence generated from multiple conflict zones, from Syria to Libya to Yemen.
CLUSTER BOMBS
Meanwhile, a rights group reported Wednesday that it had documented more than 100 locations where Syrian armed forces had over the past year used another widely prohibited weapon: cluster bombs.
Cluster bombs are munitions that may be fired from artillery or missile systems or dropped from aircraft. They are designed to explode in the air over their targets and disperse hundreds of tiny bomblets over an area the size of a football field. Each bomblet detonates on impact, spraying shrapnel in all directions and killing, maiming and destroying indiscriminately.
Those that fail to explode on impact can still detonate like land mines when disturbed later. A growing number of countries have agreed to a treaty banning the weapons and have destroyed stockpiles; Syria is not among them.
The Human Rights Watch report said the group had identified 152 locations in Syria where government forces had used at least 204 cluster bombs between July 2012 until June 2013, in nine of the country's 14 provinces. Several locations, the report said, had been repeatedly attacked with cluster munitions.
Syria's government has denied using cluster bombs.
The report said representatives of the 112 nations that so far have signed the 2008 Convention on Cluster Munitions, which prohibits the use, production, transfer and stockpiling of cluster munitions, are scheduled to meet Monday in Lusaka, Zambia, to monitor adherence.
MORE FIGHTING
In Syria on Wednesday, al-Qaida-linked rebels launched an assault Wednesday on a regime-held village in the densely populated west of Syria and new clashes broke out near Damascus.
The dawn assault on the predominantly Christian village of Maaloula was carried out by rebels from the al-Qaida-linked Jabhat al-Nusra group, according to a Syrian government official and the Syrian Observatory for Human Rights, an anti-regime group.
At the start of the attack, an al-Nusra fighter blew himself up at a regime checkpoint at the entrance to the village, said the group, which collects information from a network of anti-regime activists.
The suicide attack was followed by fighting between the rebels and regime forces, the activist group and a nun in the village said. Eventually, the rebels seized the checkpoint, disabled two tanks and an armored personnel carrier and killed eight regime soldiers in fighting, the British-based group said.
A Syrian government official confirmed the assault and said the military was trying to repel the rebels.
In Damascus, a mortar shell fired by rebels hit a sports hall Wednesday, killing a member of the national tae kwon do team, 27-year-old Mohammed Ali Neimeh, the state-run Syrian Arab News Agency reported.
Meanwhile, top officials from four nations harboring more than 1.8 million Syrian refugees said Wednesday that they badly need outside help to care for those fleeing the violence.
In a joint statement, the foreign ministers from Iraq, Jordan and Turkey, the social affairs minister from Lebanon and U.N. High Commissioner for Refugees Antonio Guterres urgently appealed for greater international support for the refugees.
Guterres said Syria's neighbors are paying a heavy price to deal with the civil war. His agency said the conflict has forced more than 2 million people out of the country - more than half of them children - and displaced more than 4 million others within its borders since March 2011.
He said there are 716,000 refugees in Lebanon; 515,000 in Jordan; 460,000 in Turkey; 168,000 in Iraq and 110,000 in Egypt.
Information for this article was contributed by Terry Atlas, Laura Litvan, Kathleen Hunter, Nicole Gaouette, Indira A.R. Lakshmanan, Joe Sobczyk, Michael C. Bender, David Lerman, Roxana Tiron, Scott Rose, Henry Meyer, Torrey Clark, Margaret Talev and Roger Runningen of Bloomberg News; by Steven Lee Myers and Rick Gladstone of The New York Times; by David Espo, Donna Cassata, Julie Pace, Josh Lederman, Bradley Klapper, Alan Fram, Deb Riechmann, Kimberly Dozier, Lolita Baldor, Karin Laub,Andrew Taylor, Zeina Karam,Albert Aji, Nicole Winfield and staff members of The Associated Press.