Correction: Holly Dickson with the Arkansas chapter of the American Civil Liberties Union said 100 percent of the voters whose ballots were disqualified during the May primary because of the state's new voter ID law were registered voters. This article included an incorrect percentage.
Members of the Mississippi County Election Commission said they agonized over each of the 172 absentee ballots that were disqualified during the May 20 primary election -- most of them because the voters did not include valid IDs under a newly enacted Arkansas law.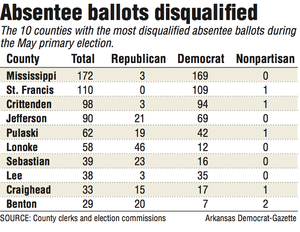 A listing of the ten counties with the most disqualified absentee ballots during the May primary election.
"Arkansas is a small state, and we're election commissioners in a small county," said George Hale, chairman of the Mississippi County commission. "I know who that person is, or one of us knows who they are ... I've known them for years and years and we couldn't count their ballots."
The May primary election was the state's first large-scale test of the voter-identification law that went into effect in January and required that every voter present valid identification at the polls and with mailed-in absentee ballots.
Nearly one of every six absentee ballots that were tossed out was because of the new law, according to numbers from county election officials.
Roughly two-thirds of the absentee ballots cast statewide were in the Democratic primary. But of the more than 1,000 absentee votes rejected, almost three-fourths were for Democratic candidates.
In Mississippi County, 169 of the 172 rejected ballots were Democratic. In the seven Delta counties that border the Mississippi River, 444 rejected ballots were Democratic compared with 13 for Republicans.
Opponents of the law said last week that they believe voters have been disenfranchised, regardless of party.
"I would say in 90 percent of these cases, there was no question they were registered voters. It's the ID requirement that prevented them from casting a ballot and being counted," said Holly Dickson, an attorney with the Arkansas chapter of the American Civil Liberties Union. "And the voters that this affects, that is what has been really troubling to us. We visited a lot of octogenarians who did not have their vote count for the first time in 40 or 50 years. And a lot of them are no longer in the physical health ... to fight for themselves."
But supporters say that any change to voting laws or patterns takes some adjustment.
"It happens when you close a polling place of redistrict, changes in voting take time for people to adjust," said Sen. Bryan King, R- Green Forest, who sponsored the 2013 legislation that became the voter-ID law.
"Absentee voters were also part of this legislation though. Fraud happens there, too, not just in person."
The ACLU is challenging the law, arguing that the Legislature did not have the authority to add extra voter requirements above what the state constitution requires.
The Arkansas Democrat-Gazette obtained information from all 75 Arkansas county clerks' offices showing 1,036 absentee votes were disqualified, most because a valid form of identification was not included.
Greene, Little River and Newton counties -- which disqualified a total of nine absentee ballots -- did not identify the party affiliation of those voters.
Of the 1,027 disqualified votes in the remaining 72 counties, 774 were Democratic, 234 were Republican and 19 were nonpartisan judicial ballots.
In Mississippi County, 169 of the 172 ballots that were disqualified were Democratic, according to the county clerk's office. The numbers were similar in a few neighboring counties in the state's Delta region, where the largest number of ballots were thrown out. In St. Francis County, 109 of the 110 disqualified ballots were Democratic; and in Crittenden County, 94 of 98 disqualified ballots were Democratic.
Hale, who is heavily involved in the Mississippi County Democratic Party, said the numbers in his county don't tell a story of Democrats being targeted. He painted a different picture.
"Personally, speaking as a citizen, I don't think enough was done to inform people about the law and what they needed to do," he said. "I think with all the court cases going on, the state should have done more because there was a lot of confusion."
Hale said he came close to having to reject his wife's ballot because of that confusion.
Patti Hale was terminally ill and staying at an assisted-living facility when her husband helped her put together her absentee ballot and almost left out her identification, Hale said. A nurse stopped them at the mailbox and offered to make a copy of Patti's license. Hale's wife died a few days later.
"This is truly personal. If it hadn't been for that sweet nurse who offered to make us a copy, when we were counting absentee ballots ... I wouldn't have been able to count her ballot ... My own wife, who had just passed away," he said.
In Jefferson County, where 90 absentee ballots were disqualified, 69 of them Democratic, elections coordinator Will Fox said he's trying to find a way to maximize voter participation while minimizing voter fraud.
"I hate it. But, we either have to enforce the law or turn a blind eye to people who are abusing the system," Fox said.
He said the law seemed to disproportionately affect older voters in Jefferson County.
"I'm a white 40-year-old male. I never lived through desegregation or fought for civil rights. There are a lot of people in this county who fought hard for something that they feel like is being threatened," he said. "But I don't think that's what it was meant to do. I think it was meant to keep candidates and campaigns from stealing the ballot box. I can see both sides, but all I can do is instruct the election commission to follow the law."
King said the law has made it harder to commit voter fraud, by mail or in person. He did, however, try to patch the portion of the law dealing with absentee ballots during the Legislature's special session at the beginning of July.
The law, as written, does not require election officials to notify absentee voters that their ballots were disqualified and does not provide absentee voters with a chance to show a valid ID to county election officials if the ballot has already been cast. People who vote at the polling place but don't have IDs have until the Monday after the election to present valid identification so their provisional paper ballots are counted. Less than 150 provisional ballots were disqualified during the primary.
"I had tried to make that fix to allow for a cure period for absentee voters during the special session, but I was told by the House members I contacted that there was no support for it," he said.
Stacey Hall, a spokesman for Gov. Mike Beebe, said the governor was aware there wasn't enough House support to address the absentee-voter fix, but said he also was concerned that the fix would not have an effect on the larger "constitutional deficiencies of the legislation." Beebe tried to veto the law in 2013, but the Legislature overrode his veto.
King said Friday that while some counties disqualified large numbers of absentee ballots, more than two dozen counties had no ballots disqualified during the election.
"That in itself should tell you something," he said. "I think a lot of how this primary election turned out came down to the individual county clerks. I am concerned about the numbers we're seeing in the Delta, but it makes me pause when I see counties without any problems."
The state law requires a notification be placed in the instructions of each absentee ballot on fluorescent paper telling absentee voters of the new requirement.
Dickson said some county clerks took extra steps to avoid disenfranchising voters, sending letters to nursing homes and assisted-living facilities warning about the rule change and including extra warning notices in the absentee-ballot envelopes.
"We found that there really were some clerks who went above and beyond what was required of them as a matter of conscience because they knew that this law was going to have an impact on this population," she said.
The secretary of state's office set aside $300,000 to purchase for each county the machines that print the voter-identification cards. The contract for the machines cost about $115,000, and an office spokesman said in January that the remaining $185,000 would be used for a voter-education campaign.
According to records requested from the secretary of state's office, about $88,000 had been spent on billboards, posters, brochures, hundreds of radio commercials, newspaper notices and other advertisements as of July.
Laura Labay, secretary of state spokesman, said the office plans to spend the remaining money on advertising between now and Election Day in November. She said the office is looking closely at where the disqualified ballots were cast in the primary election and is open to requests for more advertising in those areas.
"We also wrote public-service announcements and sent them to all of the county clerks and gave guidance that they could read those over their local radio stations in their areas. It wasn't mandatory, but that's our role ... guidance, and giving them tools," Labay said.
But Dickson said the amount spent on advertising in a state the size of Arkansas was small compared with other states that had proposed voter-ID laws in recent years. According to the Missouri legislative record, Arkansas' northern neighbor estimated it would spend $5.1 million on voter-identification education if the 2014 ballot measure passes. The Minnesota Legislature estimated it would have cost $3.9 million for a voter-ID education campaign if a ballot initiative had passed in 2012.
Some states did have similar budgets for voter-education programs, including Maryland, which estimated a cost of $250,000 in 2013 legislation. Mississippi, which began implementing its ID law in June, allocated $226,000 for the first year. But that's more than Arkansas is spending, Dickson noted.
"There's only so much anyone can do without funding ... and that's just ... that's paltry," she said.
A section on 07/27/2014