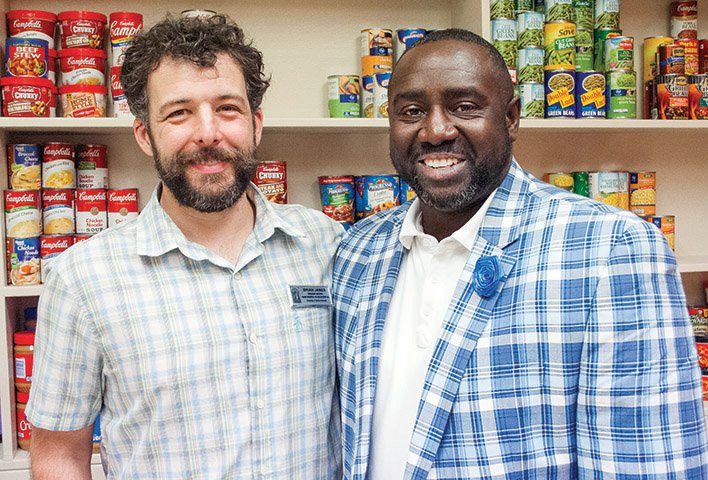 Brian James, left, and Marvin Williams stand by shelves in the Bear Essentials Food Pantry in Old Main at the University of Central Arkansas in Conway. ( William Harvey)
Four University of Central Arkansas employees realized that some students were going hungry, and they got together to do something about it.
The Bear Essentials Food Pantry in Room 108 of Old Main on the UCA campus held its grand opening June 11. The food pantry will be open year-round, including from 11 a.m. to 1 p.m. each Wednesday during the summer.
Brian James, resident master of Hughes Residential College and instructor of English, is one of the organizers.
"Just during two hours, … we gave out about 22 bags of food to seven or eight different families, and that's during the summer," James said. "Based on that, we're anticipating a pretty substantial need."
James said he was involved in a CANstruction drive, in which students collected canned food, competed to build structures out of them, then donated the goods to off-campus organizations.
"It came up that we didn't actually have a UCA food bank that was for our own students" and employees, James said.
Melissa Shock, associate professor of nutrition, got involved, too, he said, and they heard about two other UCA employees who wanted to address the need for food on campus.
"We happened to kind of catch wind of a couple of other people, Reesa [Ramsahai] and Marvin [Williams], who'd separately had this vision for a while," James said. "It sort of worked out that all four of us found each other.
"We've all sort of divided up the responsibilities," James said.
"Reesa was the one who got the funding from the Student Government [Association] that really got us off the ground," he said.
The SGA allocated $3,000 toward setting up the pantry. The room in Old Main previously was used for storage, James said. Money is still in the fund to purchase supplies as needed, he said.
Williams, an academic adviser, said he and Ramsahai, staff counselor, often refer students to each other.
Williams said he found out that one student who came to the advising center "had little to nothing to eat the last couple of days. I was just appalled."
He took the student to the cafeteria and paid for the student's meal.
Williams referred the student to Ramsahai for counseling services, and she learned about the need.
"That was not the first student we had who had nothing to eat," Ramsahai said.
"That was the last straw for both of us that something needed to be done," Williams said.
Williams wrote a proposal for a food bank and presented it to the administration, but it didn't come to fruition at that time.
"It was under consideration," he said. "Research was being done at other schools to see what they were doing. I got buzz that things were starting to happen. We just joined forces."
Ramsahai said a freshman leadership group, Ideal, traveled to Fayetteville to look at how that university's food pantry is operated.
She said many students, especially international students, do not have a vehicle on campus.
"Some of our international students, … they do not come over with much money at all," Ramsahai said.
Noella Mwangoka, 20, of East Africa, a freshman, hadn't heard about the new food pantry.
"It's a cool idea. I think it'll be nice," she said. "For me, I have to get money from my parents, and they live so far."
Mwangoka said she might utilize the food pantry.
Sitting beside her on a bench on campus was fellow freshman Mohammad Zadan, 24, of Saudi Arabia. He also wasn't aware that the Bear Essential Food Pantry had opened.
"It's a good idea," he said. Sometimes after expenses, Zadan said, he runs short of money.
James said social media will be used to help spread word of the food pantry to students.
"We'll put fliers up, probably, in all the halls when students start arriving," James said.
He said hunger among students isn't something people usually think about.
"I guess it's always in the back of your mind, but when you think about college, you think about people coming for education and think about all the positive benefits, but you don't think about what they have to sacrifice to be here," James said. "Just because they're in college doesn't mean they don't have need."
James said the Bear Essential Food Pantry isn't just for students — it's for employees, too. Some staff members may work part time, he said, or be in a job that doesn't pay much.
"They might have medical bills or family emergencies. We've all been there at some point," he said.
Students and employees can come once a calendar month to get food from the pantry, and the only requirement is that they show identification that they are enrolled or employed on campus.
"We're trying real hard to be sensitive," Ramsahai said. "Look, it's already hard when you're down, and we want to be very respectful."
If someone can't make the 11 a.m. to 1 p.m. time, he can make an appointment, Ramsahai said. Details can be found at UCA.edu/foodbank.
Donations are needed, too, she said. For more information, call her at (501) 450-3138, email James at bearessentials@uca.edu or call Williams at (501) 450-5149.
"It's really an extremely collaborative effort," Ramsahai said.
In addition to the SGA and freshman leadership team's contributions, she said, the UCA Bookstore donated bags, and graduate students in the College Student Personnel and Administration program worked on the project.
"Everybody sees a need and has really helped in the way they can," she said.
"You just never know what someone's personal situation is," James said. "It's just good that we're able to fill a need for our campus community."
Senior writer Tammy Keith can be reached at (501) 327-0370 or tkeith@arkansasonline.com.
Sponsor Content