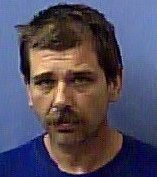 A Bee Branch man is facing homicide charges after the log truck he was driving overturned near the Archey Creek bridge on U.S. 65 in Clinton, killing two construction workers and injuring 19 others, officials said.
Jerry Hickman, 39, appeared Wednesday in Van Buren County Circuit Court for a probation-revocation hearing, where he was charged with two counts of negligent homicide, 10 counts of first-degree battery and six counts of second-degree battery, Prosecuting Attorney Cody Hiland said.
The June 2 accident occurred at 3:18 p.m., when one of the truck's tires blew out, causing the load to shift and the truck to overturn, the Arkansas Democrat-Gazette previously reported.
Construction workers Ricardo Trochez, 40, of Atkins and Hubert Keith Moore, 51, of Chester were killed in the accident.
The arrest affidavit states that Hickman's behavior following the accident "resembled a person that was intoxicated," and he was taken to a hospital for a blood draw. The state Crime Laboratory tested Hickman's blood sample and determined it was positive for meth.
"A person commits negligent homicide if he or she negligently causes the death of another person, not constituting murder or manslaughter, as a result of operating a vehicle while intoxicated," the affidavit states.
Hickman was taken into custody after Wednesday's hearing and is being held in the Van Buren County jail in lieu of $250,000 bond. Hiland said if Hickman posts bond, he would have electronic monitoring, could not drive a vehicle, would be subjected to random drug tests and could not leave the state.
Read Thursday's Arkansas Democrat-Gazette for more on this story.