Arkansas' soybean acreage is expected to rise by 6 percent to 3.45 million acres in 2015 as row-crop farmers work to respond to ever-changing commodity prices.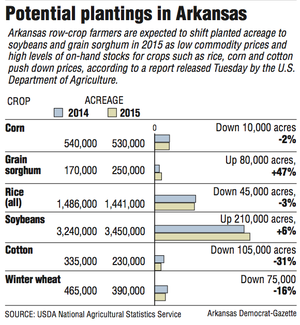 Photo by Source: USDA National Agricultural Statistics Service / Arkansas Democrat-Gazette
Graphs showing potential plantings in Arkansas.
While soybean and grain sorghum acreage will jump, cotton acreage will continue to shrink in Arkansas and around the country as a worldwide supply glut pushes prices down.
Acreage for the state's other major crops, corn and rice, are also expected to slightly contract, according to the prospective planting report released Tuesday by the U.S. Department of Agriculture's National Agricultural Statistics Service.
"The shift from cotton continues to be just from the lower price we're seeing for cotton," said Matt King, an economist with the Arkansas Farm Bureau.
King said cotton is expensive to grow compared with other crops. For example, he said, cotton pickers can cost more than a half-million dollars but can be used for only cotton while a combine -- with relatively minor changes -- can be used for different crops.
While soybeans won't generate as much gross revenue as other crops, they cost less to grow, provide consistent yields and demand less water, he said. "It's the least expensive to produce, so your risk associated with it is lower."
Producers are expected to increase the state's soybean acreage by 210,000 acres, according to the report. Last year, the state had about 3.24 million acres under production. Growers around the country are also expected to turn to soybeans, with planted acreage rising about 900,000 acres to 84.6 million acres.
Arkansas' cotton acreage is expected to drop less than National Cotton Council's projections but still would be the lowest planted acreage in the state since record-keeping began in 1909.
In a report earlier this year, the Cotton Council estimated acreage could drop by as much as 40 percent. Tuesday's USDA report said that Arkansas' cotton acreage will drop by 31 percent to 230,000 acres in 2015. Nationally, cotton acreage is expected to drop 13.5 percent to 9.5 million acres.
"There's no doubt it's going to have an impact on infrastructure" needed to support the crop, said Bill Robertson, a cotton agronomist with the University of Arkansas System Division of Agriculture.
The state has seen small and inefficient gins close or just barely get by in recent years, he said. Now, gin operators "are trying to decide if they're going to have enough acres to open their doors this year."
The longer a gin is shut down, the less chance it will reopen, Robertson said. "There's a lot of serious decision making going on right now," he said.
Producers are trying to decide what to do with equipment they no longer need. While some newer cotton pickers and other equipment specific to cotton might generate interest from buyers, Robertson said, older equipment likely will sit unused this year.
Tuesday's report indicated that the state's rice acreage could shrink by 3 percent to 1.44 million acres. Arkansas produces just over half of the nation's rice.
The report estimated that about 530,000 acres of corn will be planted in Arkansas, down 10,000 acres or 2 percent compared with 2014.
Despite worries about low prices at harvest time, acreage held fairly steady because Arkansas is a good market for corn, King said. The state's farmers have learned how to grow corn efficiently and generate high yields.
The downside, he said, is the lack of safety net associated with these crops with the end of direct payments in the 2014 farm bill.
"Crop insurance for these crops isn't reflective of the risk the producers actually take," King said, adding that the insurance plans are relatively expensive.
Grain sorghum acreage is expected to jump by 47 percent, driven largely by the export market, particularly to China where it is mostly used as livestock feed.
The report estimated that 250,000 acres of sorghum would be planted in the state, compared with 170,000 acres in 2014. That would be the most planted in Arkansas since 1994.
Jason Kelley, grain agronomist with the UA System Agriculture Division, said the numbers in Tuesday's report reflect general planting trends but that the acreage numbers will likely change as producers begin planting.
"I think grain sorghum will probably be up more than what they're showing, probably closer to 300,000" acres, Kelley said. Soybean acreage could go higher, as could cotton, he added.
"[Growers] are all still somewhat undecided exactly about what they're going to do, and ultimately the weather over the next few months will dictate a lot of things," Kelley said.
Robertson said farmers in other parts of the country don't have the same amount of flexibility in planting that farmers have in the mid-South and Delta. Cotton's prime planting time stretches from mid-April to mid-May. "We're a long ways from there," he said.
King agreed that planting estimates can change as farmers deal with issues such as rain and slow-drying fields. Planting delays, he said, could result in more soybean acreage.
"Some of those corn acres may not get planted. Some of the rice may not get planted because of the way the Cache [River] and some of the others are up right now," King said.
Business on 04/01/2015