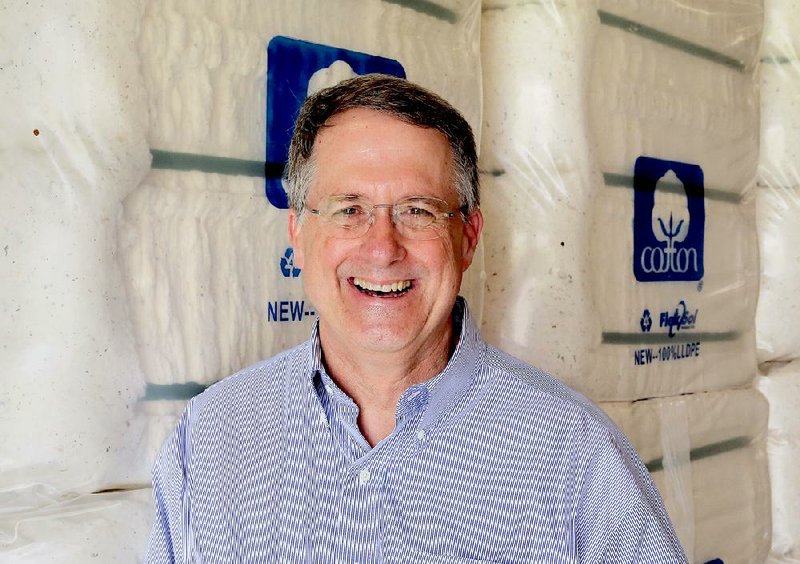 Ritter Arnold of Marked Tree ( Arkansas Democrat-Gazette / John Sykes Jr.)
MARKED TREE — If America's frontier spirit no longer means westerly migration and homesteading, it lives on in the generational belief that children should leave their hometowns and "make a name" for themselves. Not Ritter Arnold. His name is made. His hometown is his enterprise.
Arnold, 60, is the fourth-generation executive of E. Ritter & Co., the milling and agricultural enterprise begun in 1886 by great-granddad Ernest Herman Ritter, who begat Louis Vernon Ritter and a telephone utility. Ernest Herman Ritter is the documented "petitioner" of the Poinsett County Circuit Court to incorporate Marked Tree in 1897.
Roots in the community? The Ritter family is Marked Tree's taproot. Ernest Ritter pursued the first municipal water system. He was also proprietor of the town's first general store and pioneer of its electric lines.
One of Louis Vernon Ritter's daughters is Mary Ann Ritter Arnold, the 88-year-old mayor of Marked Tree, and our subject's mom.
One of Ritter Arnold's earliest memories is driving out from Little Rock where his father was in medical school to visit his grandparents, Elizabeth and Louis Vernon Ritter, on weekends. It was "the high-water mark" for so many vibrant Delta towns then. "Beehives of activity," he says. Why, there were three medical doctors in town — and dentists, too. Today, since the retirement of Dr. Kimitaka Saito, there's zero.
In spite of it, Arnold says he could see two of his three children
— all in or newly out of college — returning to the family business and the Delta. After all, E. Ritter & Co. is not a family business in the sense of a neighborhood diner, or even a small chain of neighborhood diners. Its revenues each year are measured in the low nine figures. It employs between 200 and 300 people.
And the family — the "owners," they're sometimes called — are numerous and live throughout the United States. They know as much about milo and harvesters and irrigation as they do about fiber optic transmission and cable service (the two halves of E. Ritter & Co.) — very little, that is.
So, urged on by Arnold, the company's former chief executive officer and current chairman of the board, Dan Hatzenbuehler (who married into the family), has spent years installing a family governance superstructure that at once invites family members back into the fold while at the same time introducing, formally, outside experts into the governance of E. Ritter.
"The family over all those years has a strong tradition of reinvesting in the company," Hatzenbuehler says. "They're not in this for big dividends. They're in this to perpetuate the company for the next generation of family members, the next generation of owners."
Sound old-fashioned? Ritter Arnold's own interests outside work read like a list of chores Mark Twain might've dreamed up for Tom Sawyer. He likes to bake bread, specifically sourdough, his starter batch cleaved from Marked Tree neighbor Rosalie Craig's more than a decade ago. He sings in his church choir, like his parents, which is how they met, couldn't you guess.
He loves to chop wood. "That's another activity where, you know, if you have a sledgehammer and a wedge in your hands, people generally leave you alone."
And then, he likes "marsh fishing" for redfish down in Louisiana
— but he can talk muskellunge in the boundary waters of Minnesota with Prairie Home authority.
Oh, what else?
"Love to mow the yard — I'm not a very exciting guy. I'm a Methodist."
To know something more about this Methodist of Marked Tree one may just need to get out, far out of Marked Tree, out from beneath the watchful eye of Mayor Arnold, of whom son Ritter says, "Don't let her catch you speeding through town. She wouldn't let me off with a warning."
TYRONZA
Tyboogie's is a kind of hip country diner started by Keith and Jill Forrester, who supply some of the food as well as fresh flowers from Forrester family farmland in nearby Whitton. This is where Arnold wants to have lunch, a large salad with grilled chicken.
Inside, he's greeted by several tables as if he's deacon in a one-church town. One couple is artist Norwood Creech and her husband, Tri Watkins, a landowner. Watkins and Arnold, Creech says later, are "rare birds" in these parts — landholders by birth who nonetheless stick around and take an interest in farming. One might think that "being a landowner can lock you into living where the farm is, but many hire a firm to manage their land while they go off and enjoy the financial benefits doing the more exotic things that having money allows."
Arnold's "heart is here, in this dirt."
Of course, not everyone would say such beatific things about the Arnolds/Ritters. In online message boards and posts, folks complain about the company-town quality of Marked Tree. It's a fact that
E. Ritter & Co. was far and away the largest employer of farmers and laborers in town, and it once owned a lot of the land.
"If folks have wanted to buy land, we've always tried to accommodate them," Arnold says. So much so, in fact, that First Delta Bank wanted to open a branch in town. At the time, the family business included an interest in the old Marked Tree Bank, but E. Ritter sold First Delta one of its own lots for a storefront.
"Some of the other owners weren't thrilled about that, but I thought it was the right thing to do."
The volume of disgruntled protests is growing quieter. Several years ago the company let another parcel go, this time for a small grocery. Some folks in town were furious, and for much the same reason — there was a grocery, Buck Brewer's, with a loyal customer base comprising farming families whom Brewer would carry on account through the winter until they received their spring "furnish" (production supplies and food) and could pay it off.
E. Ritter had no stake in the new grocery, but change and competition are two things Arnold believes in.
It's not personal, he might say. It's business. "I think at one time there was the perception we actively worked to keep other entities out. Today, we're welcoming all comers."
At E. Ritter & Co. — or board meetings for any of the half dozen nonprofits on which Arnold sits as a director — the question is always, how do we adapt for a potentially leaner future?
"The worst thing for a for-profit business, or a notfor-profit business, to do is ignore cash flow."
Rebecca Arnold says her husband is constitutionally two very different qualities wound tightly together, just like E. Ritter itself. The first is "he is extremely good at adapting to circumstances." She suffered debilitating back pain after the birth of their twins, and whether it's car rides (she had to recline her seat way back) or mealtimes (she would eat standing up), he accommodated her without hope or despair.
The second is "he doesn't seem to need me to be anything in particular to represent him." From clothes (Oxfords open at the collar) to cars (a Camry), he doesn't demonstrate wealth. "We have friends who are concerned about dressing to match their positions. He doesn't do much posing. … He's more concerned about what you're doing, which has him coming across as warm."
METHODIST FAMILY HEALTH
He's a board member of the state's Agricultural Council, the Arkansas Children's Hospital Foundation, The Nature Conservancy in Arkansas and the Arkansas Research Alliance. The last of these is a kind of volunteer economic development group focused on attracting big institutional research scientists to state university campuses such as those in Fayetteville and Jonesboro. It recently pledged $500,000 over three years to Dr. Gareth Morgan's Myeloma Institute for Research and Therapy at the University of Arkansas for Medical Sciences after Gareth signed on as director.
"When you recruit a research scientist, you get their staffs," and in the case of Morgan, international patients. It's cash and cachet, and if that sounds crass, it's also an accelerant for present and future development in the state.
"I've recruited everyone on the board," says the alliance's president and CEO, Jerry Adams — Arnold shares space with CEOs of companies like Deltic Timber, Murphy Oil and J.B. Hunt; he sits alongside Reynie Rutledge (First Security Bancorp) and Hugh McDonald (Entergy Arkansas) — "It's highly leverageable to get the thought-leadership of these folks together."
Arnold's also a 23-year veteran of the Methodist Family Health board, which puts on its second Southern Silks fundraiser May 2 at the Metroplex on Colonel Glenn Road in Little Rock. It's a neat fundraiser. Falling on Kentucky Derby Saturday, it has "betting" (the money gets folded into the night's proceeds; winners receive prizes) on conscripted "jockeys" (table sponsor designees) every half hour. The first one raised nearly $50,000.
Arnold's uncle Louis Vernon Ritter Jr. died in a car crash. In the aftermath, the family's big house was sold to the Methodist Children's Home operation. When Arnold joined its foundation board in 1992, it brought that bit of family misfortune full circle for Arnold. Andy Altom, CEO of Methodist Family Health, says he met Ritter Arnold when he, Altom, was a house parent at a children's home in Searcy.
"When he joined, we had five group homes," Altom says. "He — and others, too
— had the vision, 'Hey, this could be so much more.'"
The organization moved into the domain of youth psychiatric care and around 2000 opened United Methodist Behavioral Health. Today, the children's homes hold one of the largest residential psychiatric care contracts with the state's Department of Child and Family Services. It also has a contract for therapeutic foster care.
Less than two decades ago, the nonprofit's budget was roughly $1 million. Today, it's $30 million.
Adams says it's a mistake to use the word nonprofit and charity synonymously, or to think nonprofit is the antonym of for-profit. He prefers the scope he heard put forward by Pierre Ferrari, head of Heifer International: "Nonprofits simply work in areas where there is not a market."
"Under his leadership," Altom says of Arnold, "we were able to retool our financial reporting and make it look a lot more like a for-profit."
FAMILY GOVERNANCE
About a decade ago, Arnold and Hatzenbuehler, a Memphis lawyer who'd married into the family and would eventually share leadership duties with Arnold, watched something curious and a little dreadful slide into the governance side of E. Ritter & Co. — the fifth generation of Ritters.
Ernest Ritter had three children, each of whom sprouted branches of the family tree. Today there are about four dozen Ritter stakeholders in the family business.
So for the last decade Arnold and Hatzenbuehler
— mostly Hatzenbuehler — have been working to educate the fifth generation on the family's heritage if not its business, and introduce outside experts as controlling executives and board members. Hatzenbuehler himself stepped aside in 2013 in favor of a nonfamily CEO.
One of the things the transition has born is the Ritter Family Council. This is a construct completely removed from the corporate governance. Its raison d'etre is keeping the family selfaware — to make that lineage real to the extant members. One of the subcommittees is philanthropy, and here Ritter Arnold is chairman.
"Ritter's a very collaborative, supportive — a very quiet person," Hatzenbuehler says, "but a person … it comes from a kind of inner strength, and he has a wealth of knowledge and a wealth of experience, but he's a very calm, rational voice. And the family really looks to Ritter for that. Ritter loves the social interaction when all of the family is together."
Arnold's favorite Bible verse is the famous one from Galatians, For whatsoever a man soweth, that shall he also reap. Of course, that verse is just as much warning as promise, but he appreciates the expectation in it. Toil and invest, then harvest the yield. It's a course heading.
"We want to set the company up with the appropriate governance systems so that, if succeeding generations want to take this out another three or four generations, they can do that."
SELF PORTRAIT
Ritter Arnold
DATE AND PLACE OF BIRTH: March 18, 1955, Marked Tree FAMILY: wife Rebecca Forbes Arnold, twins Ann Marie and James, and Lara. A SMELL THAT MAKES ME NOSTALGIC: Diesel fuel MY FAVORITE CAR: A 1966 Ford Falcon with the stickshift on the column. A FOOD I'VE HAD TO CUT BACK ON: barbecue FAVORITE BEER: Shock Top. FAVORITE TIME OF DAY: Early morning. As I've gotten older, I wake up earlier and earlier, 4:30-5:30. Just wait, it'll happen to you. WILL I GET TO SPACE IN MY LIFETIME? Probably not. THE MOST I'D PAY TO GO IS maybe $25,000? GROWING UP IN A FAMILY BUSINESS, I KNOW a lot of times, the pressure families put on children to make sure their plans include coming into the business — it's important to let everyone develop their own talents.
MY TRADEMARK SAYING is He who is known as an early riser can stay in bed 'til noon.
ONE THING EVERY WOMAN SHOULD KNOW ABOUT MEN: Here's another axiom — Men marry women hoping they'll never change; women marry men hoping they will.
COMPROMISE — DO WE DO IT TOO SPARINGLY, OR TOO OFTEN? You know, I'm not a real hands-on type guy. So at times there were employees that should have been let go faster. I often did not act as quickly as I should have. … [But] another favorite saying of mine is, in prosperity, prudence, and in adversity, patience. You can apply that to economic times or family situations. A guy used to farm with us, his favorite saying was, "Just try and keep it between the ditches."
FAVORITE MOVIE: An Officer and a Gentleman
FAVORITE MUSICIAN: Elvis Presley
I LOVE TO READ books by Patrick O'Brian. He's written Master and Commander and a series of novels about the sea and Captain Jack Aubrey.
I THINK THE WORLD … may actually be a more peaceful place today. The conflicts around the world are more limited today. [And] I think we hear about things faster. … I think a very small part of the world gets a very large amount of press. You don't hear much about Canada.
IN A WORD, pragmatic.
"We want to set the company up with the appropriate governance systems so that, if succeeding generations want to take this out another three or four generations, they can do that."
Print Headline: Ernest Ritter Arnold
Sponsor Content